Tournées Film Festival (Fall 2016)
ABCDs in Contemporary French and Francophone Cinema: Action, Biopic, Comedy, Documentary, and Drama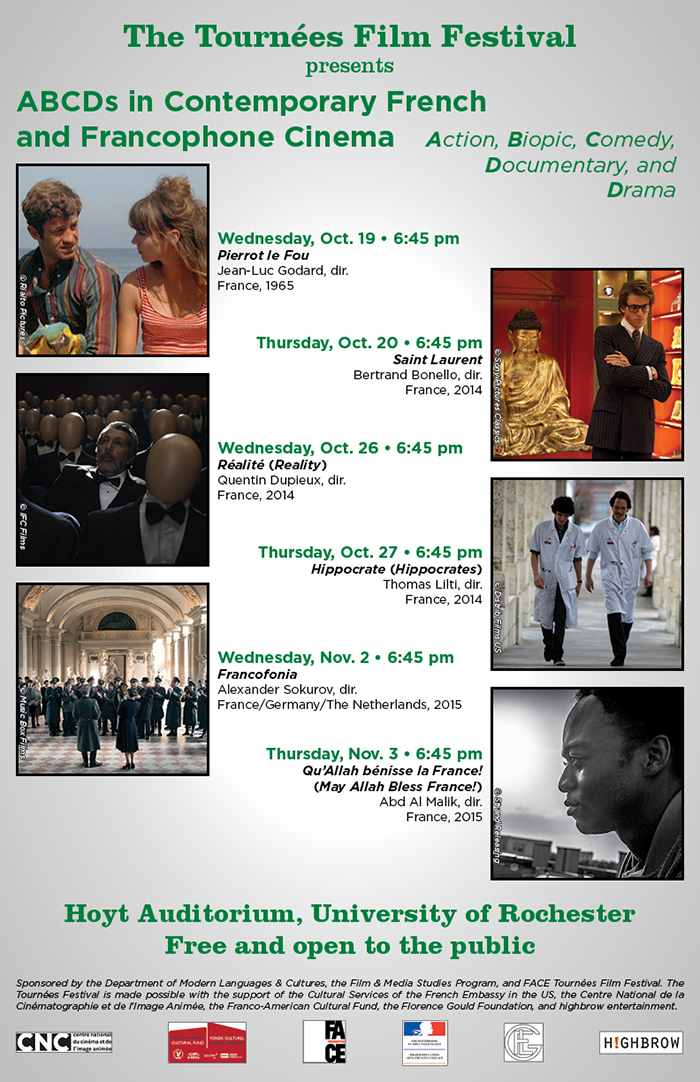 ---
Wednesday, October 19 • 6:45 pm (Hoyt Auditorium)
Pierrot le Fou
Synopsis
Pierrot le Fou (1965) is arguably the masterpiece of Jean-Luc Godard's glorious first period, that extraordinary burst of creativity that extends from his landmark debut Breathless to the political films of the late sixties. In recounting the whirlwind romance between wealthy Ferdinand (Jean-Paul Belmondo) and his babysitter Marianne (Anna Karina), followed by their escape to the south of France with gangsters on their trail, Godard walks the thin line between sixties liberation and nihilism. Indeed, Pierrot le Fou is full of Godardian dialectic: it is his sunniest film, but possibly his darkest, his most romantic, yet also his most disillusioned, a discombobulating combination of pop sensibility, boy's own adventure, and trenchant critique of decadent European society and American intervention in Southeast Asia. This is a film of legendary moments—tough-guy director Samuel Fuller telling Ferdinand that, "film is a battleground. Love, hate, violence, action, death. In one word, emotions"; Marianne turning her seaside indolence into musical comedy by coming up with the charming song "Ma Ligne de Chance"; and Ferdinand painting his face blue—but what is most striking is its constant freshness, its ability to surprise and seduce no matter how many times you've watched it. A feast of primary colors, Pierrot le Fou is simply one of the greatest films ever made, the quintessence of cinema's pleasures and challenges.
Director

Jean-Luc Godard

Screenplay

Jean-Luc Godard

Cast

Jean-Paul Belmondo
Anna Karina

Details

French
110 min.
France, 1965

Distributor

Rialto Pictures
---
Thursday, October 20 • 6:45 pm (Hoyt Auditorium)
Saint Laurent
Synopsis
With this lushly executed, unorthodox biopic of superstar couturier Yves Saint Laurent, French director Bertrand Bonello has established himself as one of the leading auteurs of our time. Focusing on the "dark years" from 1967 to 1976, when Saint Laurent was at the peak of his powers but growing increasingly isolated through his manic work habits and equally obsessive hedonistic pursuits, becoming estranged from his lover and business manager Pierre Bergé due to a drug-fuelled affair with a notorious Paris dandy, Bonello creates an impressively layered portrait that never succumbs to the reductive formulas often found in film treatments of creative geniuses. Part of the secret lies in the way that Bonello remains allusive with his elusive subject, accumulating fragments rather than pursuing plot points. Indeed, some of the film's most memorable episodes, such as Saint Laurent teaching an insecure client to see herself in a new light or encountering his legendary muse Betty Cattroux in a sumptuous, wordless Paris nightclub scene, feel like routine moments—which only happen to belong to the routine of an extraordinary being. Bonello's strength lies not only in revealing the nuances of a legendarily remote character, but in capturing the electricity of his subject's milieu with astute blue chip casting, moody scoring, and sensual camera movement. The ambition here is nothing short of operatic; it is no coincidence or hyperbole if one leaves the theater thinking of Visconti or The Godfather trilogy.
Director

Bertrand Bonello

Screenplay

Bertrand Bonello
Thomas Bidegain

Cast

Gaspard Ulliel
Jérémie Renier
Louis Garrel
Léa Seydoux
Amira Casar
Aymeline Valade

Details

French
150 min.
France, 2014

Distributor

Sony Pictures Classics
---
Wednesday, October 26 • 6:45 pm (Hoyt Auditorium)
Réalité  (Reality)
Synopsis
Combine David Lynch's head-scratching wildness and Charlie Kaufman's hilarious worst-case scenarios, throw in a pinch of Luis Buñuel's wicked irreverence and a streak of cruel French humor, and you won't quite have Quentin Dupieux's Reality, but you'll be a little closer to understanding how far outside convention this delightfully fearless, mind-bending comedy dwells. In Reality, a French filmmaker in California finds a movie-house that is already screening the film he is in the process of writing, a little girl tries to watch a big blue videotape she found inside a hog's stomach, and a cooking show host endangers his livelihood by constantly scratching at a full-body rash that no one else can see. By making his characters intersect in the realm of the impossible, Dupieux masterfully collapses the distance between dream and reality and returns to film's primal role in the collective unconscious. Working in a sui generis genre that can both stand up to psychoanalytic exegesis and provide riotous late-night viewing, Dupieux has established himself as one of the last mad scientists of French cinema. While he is currently seen as little more than a cult outsider, it is only a matter of time before he is recognized as one of the great originals of our age.
Director

Quentin Dupieux

Screenplay

Quentin Dupieux

Cast

Alain Chabat
Jonathan Lambert
Elodie Bouchez
Jon Heder

Details

French, English
95 min.
France, 2014

Distributor

IFC Films
---
Thursday, October 27 • 6:45 pm (Hoyt Auditorium)
Hippocrate  (Hippocrates, Diary of a French Doctor)
Synopsis
Like an episode of ER directed by the Dardenne brothers, Hippocrates combines the human drama that surrounds medical emergencies with a hard-hitting look at the situation of beleaguered French hospitals. Using young medical student Benjamin (played by rising star Vincent Lacoste) as a guide, director Thomas Lilti, himself a doctor by trade, takes the viewer on a "backstage" tour of a labyrinthine Paris hospital where life and death decisions make fuses run short. For his first internship, timorous Benjamin is assigned to the floor run by his father. Here, he meets Abdel (Reda Kateb), an older, idealistic intern who already practices medicine in his native Algeria but must be accredited in France to make a better life for his family. When Benjamin's negligence leads to the death of a homeless patient, the two doctors clash and questions of privilege arise. But they discover their shared values when they go against the system to grant a terminally ill elderly patient's last wishes. While the film provides fascinating insight into the particularities of the French medical complex—particularly in the dingy world of the doctors' quarters, where one marvels at the traditional bawdy murals and gallows humor—it remains etched in the viewer's mind for its candid and sometimes surprisingly funny way of raising universal questions of human dignity and empathy.
Director

Thomas Lilti

Screenplay

Thomas Lilti
Baya Kasmi
Pierre Chosson
Julien Lilti

Cast

Vincent Lacoste
Reda Kateb
Jacques Gamblin

Details

French
102 min.
France, 2014

Distributor

Distrib Films US
---
Wednesday, November 2 • 6:45 pm (Hoyt Auditorium)
Francofonia
Synopsis
Francofonia is the great Russian filmmaker Alexander Sokurov's heroically ambitious meditation on European culture and history as seen through the story of the Louvre museum in Paris, with a particular focus on its fortunes during World War II. Neither a straight documentary nor a standard work of fiction, the film achieves an essayistic density by moving between several narrative strands: there is Sokurov himself, talking via Skype with a cargo ship captain carrying part of the Louvre's holdings through a deadly storm; France's national symbol Marianne roaming the museum's collections with Napoleon Bonaparte; and the true story of the friendship between the Louvre's wartime French curator and the Nazis' head of artistic preservation (or, perhaps more accurately, appropriation). In what may be the film's most affecting sequence, Sokurov turns closer to home and compares the Louvre's relatively benign wartime fate with that of the Hermitage Museum in besieged Leningrad. Sokurov's voiceover directly addresses the characters in archival images and present-day footage shot in his distinctive palette of gold and beige, his ruminations aiming for nothing less than a history of the relationship between art and power in twentieth-century Europe. This exploration of savagery and civilization as seen through the treatment of artistic treasures proves once more that Sokurov is not only one of the most idiosyncratic artists of our age but one of its most passionate, a living witness to the fading dream of a Europe defined by its artistic grandeur.
Director

Alexander Sokurov

Screenplay

Alexander Sokurov

Cast

Louis-Do de Lencquesaing
Benjamin Utzerath

Details

French, Russian, and German
87 min.
France, Germany, and the Netherlands, 2015

Distributor

Music Box Films
---
Thursday, November 3 • 6:45 pm (Hoyt Auditorium)
Qu'Allah bénisse la France!  (May Allah Bless France!)
Synopsis
May Allah Bless France! is the invigorating first feature by acclaimed French rapper and novelist Abd Al Malik, a coming-of-age story and redemption tale based on the writer-director's own youth in the beleaguered projects of Strasbourg. The film follows the struggles of Régis, a budding rapper who relies on petty crime to fund his passion for music. But as his fellow musicians get lured into drug dealing, teenage Régis finds salvation in the classics of French literature and his conversion to Sufi Islam. While Abd Al Malik's edifying hymn to education and tolerance is first and foremost a boldly idealistic statement, it is also a profoundly satisfying cinematic experience, shot in high-contrast black and white and full of powerful stylistic devices that break with convention to heighten the impact of everyday violence and injustice. Fluidly adapting his talents as a storyteller to the screen, Abd Al Malik revisits the "banlieue film"—the sub genre of films dealing with restless youth in France's tough suburbs, launched by Mathieu Kassovitz's La Haine in 1995—not only to give an insider's update, but to break with the genre's suffocating pessimism. In these challenging times for France, and particularly for French Muslims, this intelligent and accessible call for a potential way forward is nothing short of essential viewing.
Director

Abd Al Malik

Screenplay

Abd Al Malik

Cast

Marc Zinga
Sabrina Ouazani
Larouci Didi

Details

French, Arabic, and Lingala
96 min.
France, 2015

Distributor

Strand Releasing
---
Sponsored by the Department of Modern Languages and Cultures, the Film and Media Studies Program, and FACE Tournées Film Festival. Tournées Film Festival is made possible with the support of the Cultural Services of the French Embassy in the US, the Centre National du Cinéma et de l'Image Animée (CNC), the Franco-American Cultural Fund, the Florence Gould Foundation, and Highbrow Entertainment.