Tournées Film Festival (Fall 2015)
FRENCH AND FRANCOPHONE CINEMA: TEXTS AND CONTEXT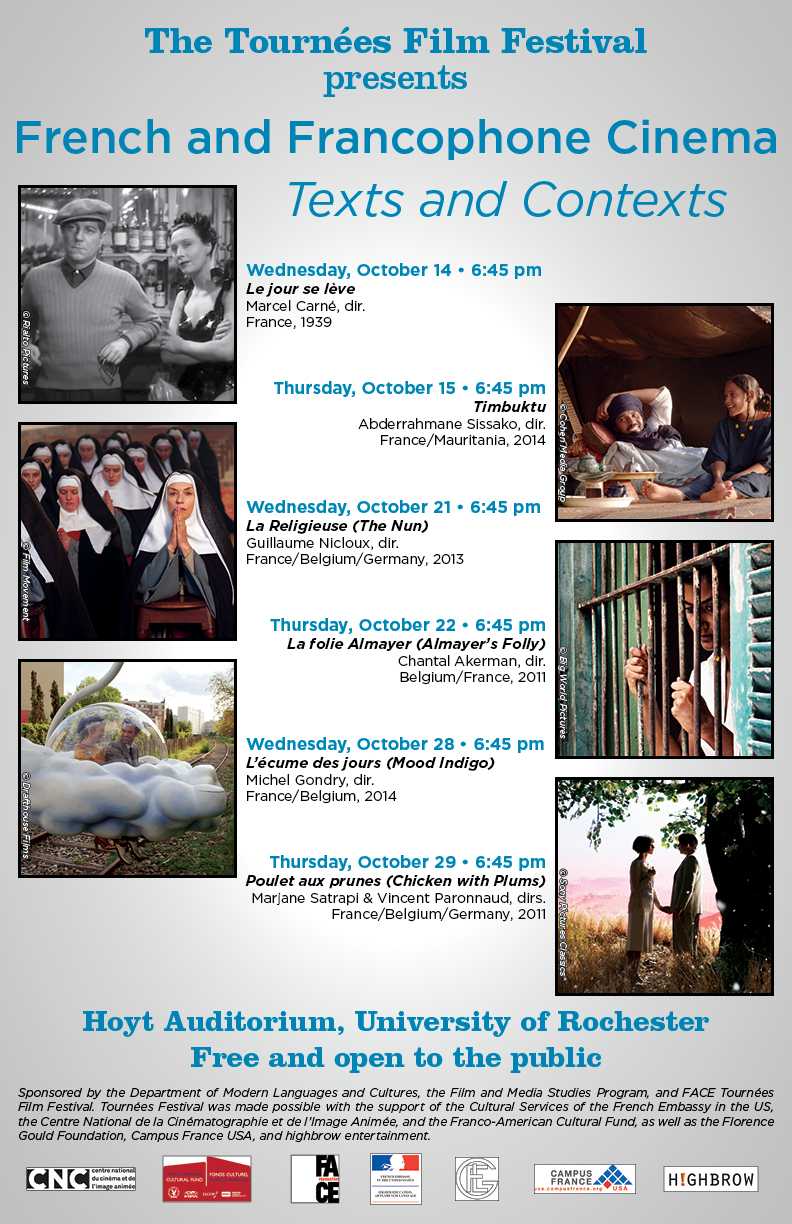 ---
Wednesday, October 14 • 6:45 pm (Hoyt Auditorium)
Le jour se lève
Synopsis
This paragon of "poetic realist" cinema from 1939 was the fourth collaboration between director Marcel Carné and screenwriter Jacques Prévert, who enjoyed one of the most illustrious partnerships in movie history. (They are the team responsible for 1945's Children of Paradise, perhaps the most beloved French film of all time.) Le jour se lève begins with a jolt: An elegantly dressed gentleman, already dead from multiple gunshots, tumbles down a flight of stairs in a Paris tenement. As the police swarm the building, the man who pulled the trigger, François (Jean Gabin), barricades himself in his garret. Through puffs of countless cigarettes, François silently recalls what led to this violent act via flashback. This gruff foundry worker, we learn, was in love with two women: innocent florist Françoise (Jacqueline Laurent) and hardened entertainer Clara (Arletty), both of whom were attached to the devious Valentin (Jules Berry). The raging animosity between the two men led to the fatal confrontation witnessed in the film's beginning; by its end, there will be another death. Suffused with despair, Le jour se lève, released just a few months before France and the UK declared war on Germany, uncannily anticipates the unrelenting real-life misery to come.
A glorious restoration that invigorates the original! Restores several cuts demanded by the Vichy regime [Its] extraordinary cinematography, replete with chiaroscuro lighting and vertiginous shooting angles, Prefigures American Film Noir.
—Anna King, Time Out New York
Director: Marcel Carné
Screenplay: Jacques Prévert and Jacques Viot
Cast:
Arletty
Jules Berry
Jean Gabin
Genre: Drama
Language: French
Running Time: 93 minutes
Production: France, 1939
Rating: Not Rated
Distributor: Rialto Pictures
---
Thursday, October 15 • 6:45 pm (Hoyt Auditorium)
Timbuktu
Synopsis
In his magnificent fourth feature film, Abderrahmane Sissako demonstrates his remarkable ability to thoroughly condemn religious fanaticism and intolerance with subtlety and restraint. Timbuktu concerns the jihadist siege of the Malian city of the title in 2012. A ragtag band of Islamic fundamentalists, hailing from France, Saudi Arabia, and Libya, among other nations, announce their increasingly absurd list of prohibitions—no music, no sports, no socializing—via megaphone to Timbuktu's denizens, several of whom refuse to follow these strictures, no matter the consequence. In one instance of such defiance, perhaps Timbuktu's most indelible scene, a group of boys "play" soccer with an invisible ball; in another, a woman who has been sentenced to be flogged for singing continues her song between lashes (her punishment depicted discreetly). Upbraided by a local imam for entering a mosque with guns, the jihadists reveal themselves to be men less concerned with the teachings of the Koran than with enforcing draconian, and ever arbitrary, law. As further proof of Sissako's great compassion, even these horribly misguided dogmatists are presented as multidimensional characters, though the intolerant way of life they insist on is never less than criminal.
Not just a timely movie, a great one… Timbuktu feels at once timely and permanent, immediate and essential.
—A.O. Scott, New York Times
Director: Abderrahmane Sissako
Screenplay: Abderrahmane Sissako and Kessen Tall
Cast:
Pino Desperado
Fatoumata Diawara
Abel Jafri
Toulou Kiki
Kettly Noël
Hichem Yacoubi
Genre: Drama
Language: Arabic, Bambara, French, English, Songhay, and Tamasheq
Running Time: 100 minutes
Production: France/Mauritania, 2014
Rating: PG-13
Distributor: Cohen Media Group
---
Wednesday, October 21 • 6:45 pm (Hoyt Auditorium)
La Religieuse  (The Nun)
Synopsis
Guillaume Nicloux's adaptation of Denis Diderot's late-eighteenth-century anticlerical novel is an excellent companion to Jacques Rivette's 1966 page-to-screen transfer of the same material. In the role first inhabited by Anna Karina in Rivette's film, Pauline Etienne plays Suzanne Simonin, a devout sixteen-year-old who, lacking a dowry and a vocation, is forced by her aristocratic, though financially troubled, parents to enter a convent. Although her time in the nunnery was originally supposed to last just a few months, Suzanne soon finds herself imprisoned in the abbey, subject to the humiliations of the cruel Mother Superior Christine (Louise Bourgoin) and the selfishness of her actual mother—who makes the startling announcement to her daughter that she is, in fact, an illegitimate child and must therefore expiate the family's sins by staying in the convent indefinitely. Suzanne is eventually transferred to another cloister overseen by Mother Superior Saint-Eutrope (Isabelle Huppert), whose initial kindness toward the young woman soon morphs into sexual predation. A scathing examination of religious hypocrisy and a profound treatise on freedom, Nicloux's adaptation, whose ending differs significantly from Rivette's, imagines Suzanne as an even more indefatigable heroine.
[An] atmospheric adaptation…driven onwards by a powerful central female performance.
—Eye for Film
Director: Guillaume Nicloux
Screenplay: Guillaume Nicloux and Jérôme Beaujour
Cast:
Louise Bourgoin
Pauline Etienne
Martina Gedek
Isabelle Huppert
Genre: Drama
Language: French
Running Time: 100 minutes
Production: France/Belgium/Germany, 2013
Rating: Not Rated
Distributor: Film Movement
---
Thursday, October 22 • 6:45 pm (Hoyt Auditorium)
La folie Almayer  (Almayer's Folly)
Synopsis
Chantal Akerman's loose adaptation of Joseph Conrad's first novel (published in 1895) is as assured and sublime as her page-to-screen transfer of Marcel Proust in La Captive (2000). Opening with an extraordinary scene—the stabbing of a club performer lip-synching to Dean Martin's "Sway"—Almayer's Folly unfolds as something of a hallucinatory nightmare, which, Akerman astutely intimates, might be the best way to describe the legacy of colonialism. The European trader of the title, who is slowly descending into madness, is played by Stanislas Merhar (the same actor who starred in La Captive). Living deep in the Malaysian jungle sometime during the mid-20th century, Almayer obsesses over the welfare of his mixed-race daughter, Nina, whose mother, a local woman, has disappeared. After Nina is kicked out of a convent-style boarding school in the city, she falls in love with a Malay rebel fighter—sending her father, now financially as well as mentally destroyed, into further despair. In a film rife with indelible set pieces, perhaps none makes a greater, more devastating impression than the six-and-half-minute close-up of Merhar, crying out in vain for deliverance.
Border crossing, or ruminating about being on the other side of a border, has long been a key part of Ms. Akerman's films. She often seems to be feeling out the muscle memory of exile in her camera movements and framing, but here the stasis of Almayer's existence is intensely felt. Shooting the film in Cambodia, Ms. Akerman may well be going farther afield than in her hybrid nonfiction work in the past two decades… Yet for all the leafy exteriors and chugging boats, Almayer is very much inside even when he's out.
—Nicolas Rapold, New York Times
Director: Chantal Akerman
Screenplay: Chantal Akerman, based on the eponymous novel by Joseph Conrad
Cast:
Almayer: Stanilas Merhar
Nina: Aurora Marion
Capitaine Lingard: Marc Barbé
Daïn: Zach Andrianasolo
Genre: Drama
Language: French, English, and Khmer
Running Time: 127 minutes
Production: Belgium/France, 2011
Rating: Not Rated
Distributor: Big World Pictures
---
Wednesday, October 28 • 6:45 pm (Hoyt Auditorium)
L'écume des jours  (Mood Indigo)
Synopsis
Long thought unfilmable, Boris Vian's 1947 cult novel—which translates literally as "The Foam of Days"—is charmingly adapted by Michel Gondry, who fills the screen with his trademark whimsical touches. The central narrative of Mood Indigo concerns the ultimately tragic love story of Colin (Romain Duris), an exceptionally wealthy man who inhabits a spectacular rooftop apartment/playhouse, and Chloé (Audrey Tautou), a physically frail woman he meets a at party. Yet theirs is no ordinary courtship: Colin and Chloé travel across Paris in a cloud-shaped vessel, sip beverages from a cocktail-mixing piano, and dine on elaborate concoctions prepared by Nicolas (Omar Sy), Colin's in-house chef and lawyer. Although Gondry has been celebrated for his inimitable mise-en-scène ever since Eternal Sunshine of the Spotless Mind (2004), here he takes production design to a whole new level, deftly mixing stop-motion animation and digital special effects. For all its visual splendor, though, Mood Indigo never loses sight of the great romance shared by its main characters—bonds that deepen when Chloé is diagnosed with a life-threatening malady: the growth of a water lily in one of her lungs.
A beautiful love story, Gondry's most powerful and accomplished film.
—The Wrap
Director: Michel Gondry
Screenplay: Michel Gondry and Luc Bossi
Cast:
Romain Duris
Audrey Tautou
Omar Sy
Genre: Romantic Drama
Language: French
Running Time: 131 minutes
Production: France/Belgium, 2014
Rating: Not Rated
Distributor: Drafthouse Films
---
Thursday, October 29 • 6:45 pm (Hoyt Auditorium)
Poulet aux prunes  (Chicken with Plums)
Synopsis
As they did with Persepolis (2007), codirectors Marjane Satrapi and Vincent Parronaud once again magically translate a graphic novel by the former to the big screen. Unlike Persepolis, which was entirely animated, Chicken with Plums, set in Tehran in 1958, is mostly live action. But the flesh-and-blood actors—including a heartbreaking Mathieu Amalric as Nasser-Ali Khan, a gifted violinist so miserable that he wills himself to die—appear before wondrously hyper-stylized sets, a mise-en-scène that imbues Chicken with Plums with the power of a parable. As Nasser-Ali takes to his bed, where he plans to expire, the film recalls the source of his sorrow, stretching all the way back to his childhood. The talented musician's unhappy marriage to schoolteacher Faringuisse is recounted, as well as his distant relationship to his two young children (whose own fates are presented in droll flash-forward). Soon the real reason for Nasser-Ali's anguish becomes clear: the rupture of his first—and only—great love affair, with a beautiful woman called Irâne. Her name assumes subtle allegorical significance in this deeply melancholic film, suggesting that she represents not only a lost love but a country misled.
Not that Chicken With Plums is gloomy. Like its swooning, madly melodramatic musical score, the film takes an almost giddy pleasure in unhappiness, turning even pedestrian moments of boredom or discomfort into occasions for wild invention. The Angel of Death appears, as do other mythic and half-mythic figures, and the filmmakers indulge a vast repertory of cinematic and theatrical effects, using Expressionist lighting, garish parody and deep, rich tones that recall early hand-tinted Technicolor.
—A.O. Scott, New York Times
Director: Marjane Satrapi and Vincent Paronnaud
Screenplay: Marjane Satrapi and Vincent Paronnaud, based on the comic book by Marjane Satrapi
Cast:
Nasser-Ali Khan: Mathieu Amalric
Azraël: Edouard Baer
Faringuisse: Maria de Medeiros
Irâne: Golshifteh Farahani
Parvine: Isabella Rossellini
Lili: Chiara Mastroianni
Genre: Comedy
Language: French
Running Time: 93 minutes
Production: France/Belgium/Germany, 2011
Rating: PG-13
Distributor: Sony Pictures Classics
---
Sponsored by the Department of Modern Languages and Cultures, the Film and Media Studies Program, and FACE Tournées Film Festival. Tournées Festival was made possible with the support of the Cultural Services of the French Embassy in the US, the Centre National de la Cinématographie et de l'Image Animée, and the Franco-American Cultural Fund, as well as the Florence Gould Foundation, Campus France USA, and highbrow entertainment.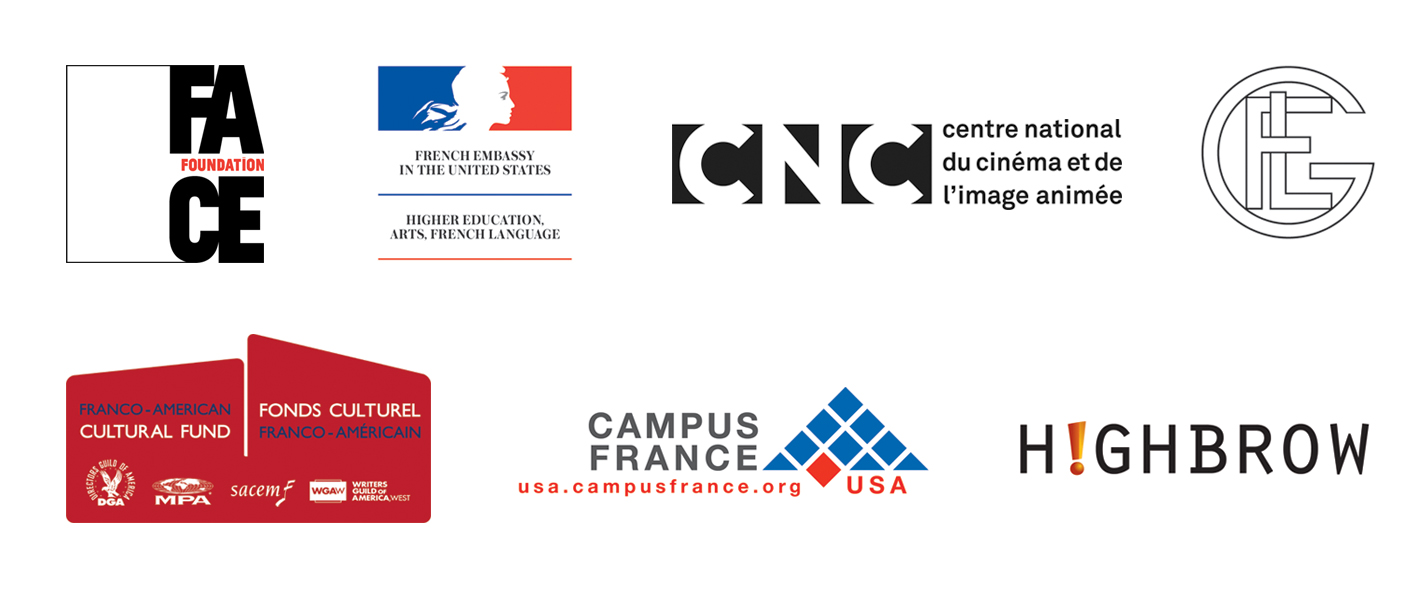 For information on the Spring 2015 Tournées Film Festival, click here.