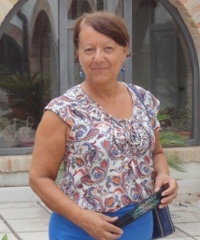 Teresa Murano
Associate Professor of Instruction in Italian
MA, University of Pennsylvania
432A Lattimore Hall
(585) 275-8208
teresamurano@gmail.com
Office Hours: Monday, Wednesday, and Friday 1 to 1:45 p.m., and by appointment
---
Biography
Teresa Murano received a bachelor's degree equivalent (20 required credits and oral exams) from Università degli studi di Roma "La Sapienza" in Rome, Italy, and a master's degree in Socio/Cultural Anthropology from the University of Pennsylvania, where she also completed her PhD preliminary exam.
She has taught Italian language and culture to American students in Italy, to German students in Germany, and at several western New York colleges, including Hobart and William Smith Colleges (1997-1999); St. John Fisher College (since 2000); Monroe Community College, where she received the Outstanding Faculty Advisor Award (2000-2015); the University of Rochester (since 2013); and the Eastman School of Music (since 2014).
Teresa Murano has worked as an interpreter, teacher, editor, translator, and voice-over performer in Vatican City and in the United States. She is currently working on a collection of short stories, A Southern Italian Experience. She is editing Short Stories by Alberto Moravia: Readings and Exercises, a textbook for intermediate-level college students.
Among Teresa's hobbies are volunteering in underdeveloped countries, traveling, and cooking.
Courses Offered (subject to change)
IT 101:  Elementary Italian I (Fall)
IT 102:  Elementary Italian II (Spring)
IT 114:  Conversational Italian (Fall/Spring)
IT 200:  Advanced Italian Composition and Conversation (Fall)
IT 203:  Introduction to Italian Literature in Italian (Spring)