Research Seminar
The MLC Research Seminar introduces critical approaches to reading written and visual texts. They provide you strategies for interpreting literature, films, and other cultural objects, such as photographs and works of art. Students in this seminar explore a variety of theories about reading and looking, with an eye toward understanding what the role of criticism is, why and how the study of literature and culture still matters, and how they can develop their own critical skills based on personal interests and concerns. Various ways of reading the same text reveal possible interpretations and different concerns. This course teaches reading strategies that help students get to the heart of what they are studying. Significant amounts of course work will be devoted to the art of researching, drafting, and then writing the final research paper. How to choose a thesis, what methods of investigation you employ, and how you synthesize your analysis are basics of the process.
Students whose research papers are of exceptional quality will be nominated for presentation at the annual MLC Undergraduate Research Conference.
The Seminar (CLTR 389, 4 credits) is offered every Fall and Spring semester, Tuesday and Thursday from 4:50 pm to 6:05 pm.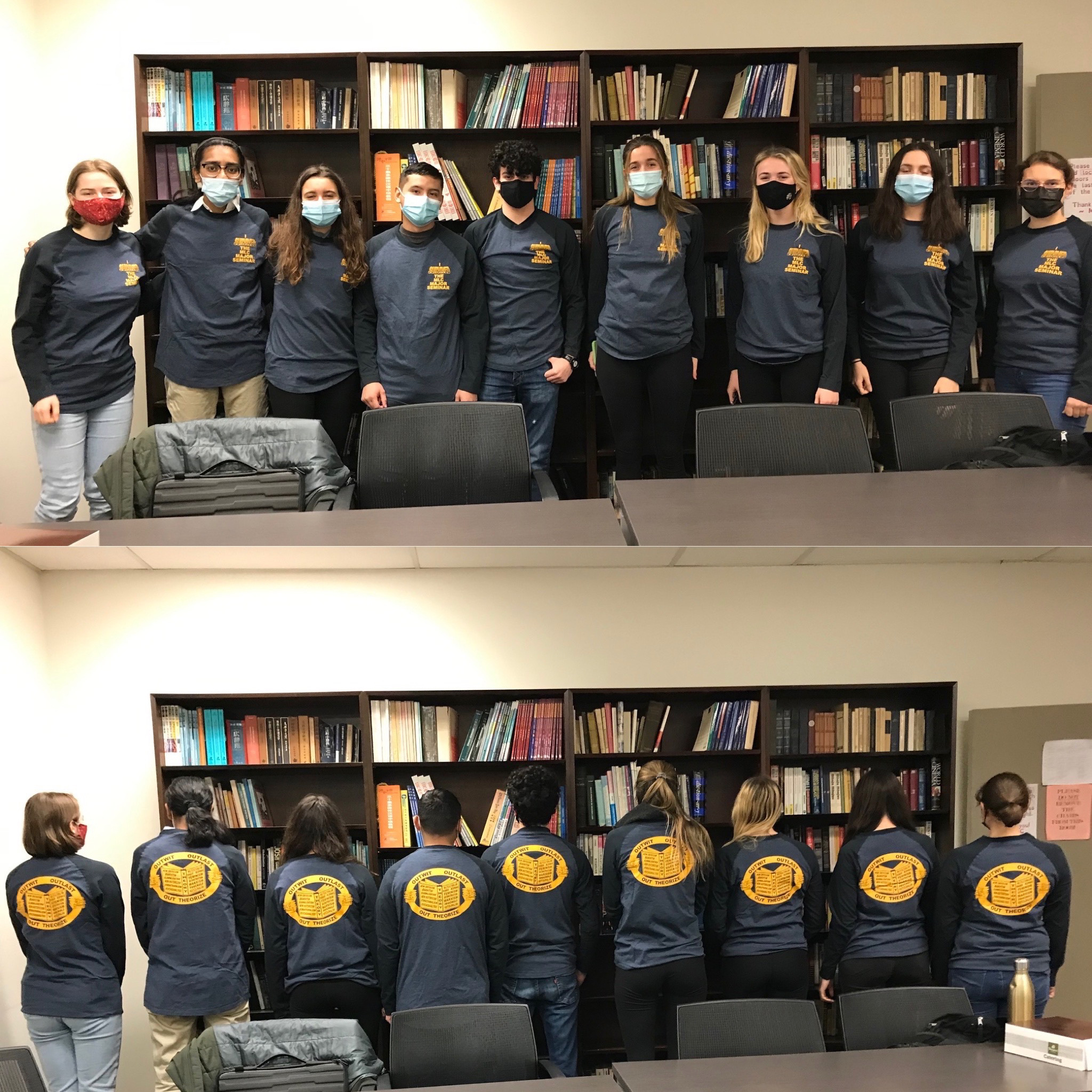 Pictured above: Students from the Fall 21 Research Seminar course in their Research Seminar t-shirts. 
 Frequently Asked Questions
---
WHY DO I HAVE TO TAKE THE RESEARCH SEMINAR?
The Research Seminar introduces you to the critical study of many of the significant theories involved with the study of language, literature, and culture. Furthermore it asks you to reflect on what it is you do when you study languages and national cultures. Languages are not empty—you have to talk about something, and the ways you talk about something in a given language relate directly to the theories and contents of cultures. (Because the material in the Research Seminar applies to advanced work in the major, students are encouraged to enroll in the Research Seminar (CLT 389) in their junior year if at all possible.)
WHAT ARE THE MAJOR BENEFITS OF THIS CLASS?
Working closely with other students across the department, you will receive guided instruction on how to formulate a thesis for your paper, how to research the topic, and how to produce a persuasive argument. You should expect not just to passively follow instructions and to do homework, but to think critically about what you're doing and what it means to study language, literature, and culture. Class sessions will provide you with ample opportunity to reflect analytically on all of the readings you do.
WHAT CAN I EXPECT THE RESEARCH SEMINAR TO BE LIKE?
You can expect a challenging course in which you will learn how to read different kinds of literary and academic prose and how to write a major research paper actively using the theoretical language you have learned in the seminar. To prepare you for this, you will do a significant amount of reading that will familiarize you with various directions in literary and cultural theory, including but not limited to:
Formalism
"Close reading," including discussion of what a text is
Structuralism
The individual subject; psychoanalysis
The social; Marxism
Gender theory, including feminism and queer theory
Race and multiculturalism
Globalization and post-colonialism
HOW DOES THIS CLASS FIT IN WITH MY MAJOR?
This is a capstone course for all concentrators in Modern Languages and Cultures because the course reflects the methods and ideas that we share in all sections of the department. You can expect to be able to answer the following questions after you've completed the Seminar:
What constitutes cultural difference?
What constitutes a cultural text, and how do texts relate to cultural contexts?
When I have a text in front of me for the first time, what do I do with it?
How do I start to read it or look at it or think about it?
What are the questions I should be asking it?
Why is there no such thing as an innocent reading?
WHAT IF I CAN'T TAKE THE RESEARCH SEMINAR?
Your major in MLC requires you to take the Research Seminar. If for reasons acceptable to the Department you absolutely cannot participate in the required seminar, there is a process to petition a departmental committee to write a senior essay instead, but you will still need to address critical and theoretical issues. Consult with your advisor on the petition process.
WHO WILL BE IN THE SEMINAR?
You will have the opportunity to learn from other MLC majors, who come from Comparative Literature, French, German, Italian Studies, Japanese, Russian, and Spanish.
IS THERE PIZZA INVOLVED?
Absolutely!
Professor John Givens will be teaching this class in the fall and spring semester.