Summer Program in Quito, Ecuador
Spend June 2018 studying Spanish in Quito, Ecuador!
Below is information on:
Please note that all information about this program is tentative and subject to change. Check with the program director for the most recent information.
---
Program Dates and Deadlines
June 1-30, 2018
Application deadline: February 1, 2018
---
About Quito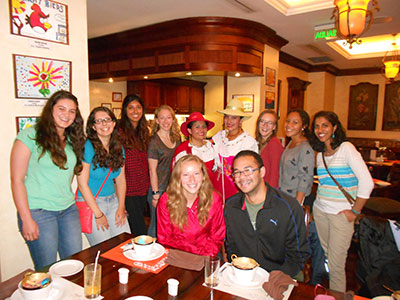 With a diverse population of nearly 2.5 million people, Quito is a vibrant and modern city, and although it is located only twenty-two miles from the equator, the city's high altitude (9350') ensures "eternal spring" temperatures throughout the year. The "centro histórico" in Quito - an architecturaljewel - is a UNESCO World Cultural Heritage Site and a beautiful area to visit museums, churches, restaurants, and shopping. Quito also has a number of beautiful parks.
Ecuador's national culture is a synthesis of the contributions of indigenous, European, and African peoples, and its geography and natural environment is one of the most diverse in the world. Within a relatively short distance from Quito one can get high in the mountains, or reach a semi-tropical region.
---
Program Overview
Ecuador and Quito: The New Millennium
The study abroad program in Quito, Ecuador, allows students the opportunity to earn four credits for either SP 157 or SP 207 through instruction in Spanish language and a thematic course on contemporary Ecuadorian culture and society.
Instruction is given through the faculty of IES Abroad, our host program. Two levels of instructionwill be offered:
One level for students who have completed SP 151 or 152
One level for students who have completed SP 200 or a more advanced course
Classes are held weekday mornings at the IES Abroad Quito Center. Many afternoons, students will have the opportunity to participate in a cultural activity or excursion organized by IES Abroad, they will have time to explore the city on their own and with their fellow students.
The program also includes field trips in Quito and to Mindo, Mitad del Mundo, and Otavalo.
---
Accommodations
The academic component of the program enables students to grow as language learners within a structured environment. But the very best opportunity for students to immerse themselves in the Spanish language and foreign culture will happen through the homestay.
Students are placed with host families in carefully chosen private residences that have Internet access. Host families greet their students at the IES Quito Center on June 1 and help them learn the basics of getting around in Quito. IES representatives will meet the students at the airport and transport them into the city to the IES Quito Center.
The families also provide three meals a day, offering ample opportunity for conversation and cultural exchange. The host families are experienced in introducing students from around the world to Quito and have worked extensively with IES. Vegetarian diets and other specials needs are readily accommodated.
---
Fellowship Aid
The Modern Languages and Cultures' Mildred R. Burton Fund and the Lynne Miller Study Abroad Scholarship help defray costs for Rochester undergraduates studying language abroad in the summer. The online application provides a place to apply for scholarship funds.
---
Program Costs and Application
The estimated cost of the program ($3,640) includes:
Tuition
Accommodations with a local family
Three meals each day
Excursions
The program cost does not include airfare or in-country expenses, such as cell phone, required travel documents, extra food, souvenirs, etc.
Starting in Summer 2018, tuition and program costs will be added to your official tuition bill. For information on payments and deadlines, please refer to your official billing statement from the Office of the Bursar.
---
Contact
For more information, contact:
Professor Beth Jörgensen
Quito Program Director
Professor of Spanish
Lattimore 422
bjorgensen@ur.rochester.edu