WebCAPE Online Placement Exam Instructions
The Department of Modern Languages and Cultures employs the WebCAPE online placement exam to assess the language skills of those with prior knowledge or study of Chinese, French, German, Italian, Russian, and Spanish. To take this exam, please follow the steps below:
Step 1) Go to Blackboard (learn.rochester.edu) in your web browser, and login with your UR NetID and Password. (Note: If you do not have a NetID or have not yet created your NetID password, please visit http://tech.rochester.edu/services/netid/.)
Step 2) Once you are logged into your Blackboard account, select your class year under "My Organizations."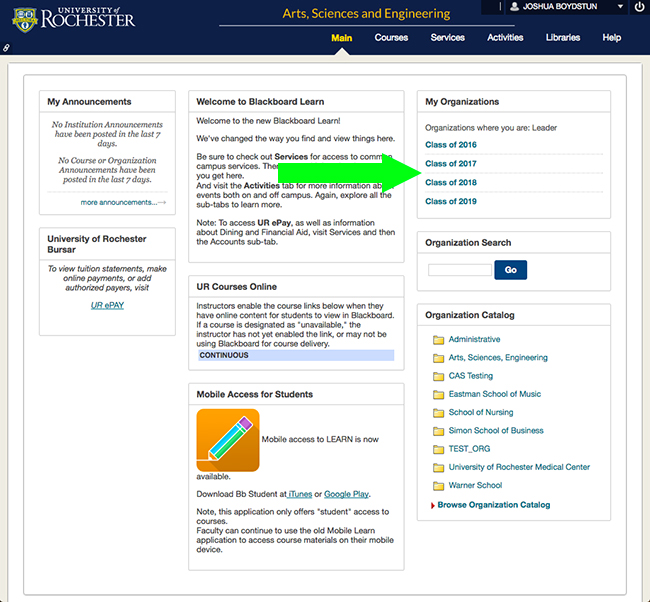 Step 3) On the main page for your class year, click on the "Orientation Online" link on the left-hand side of the page.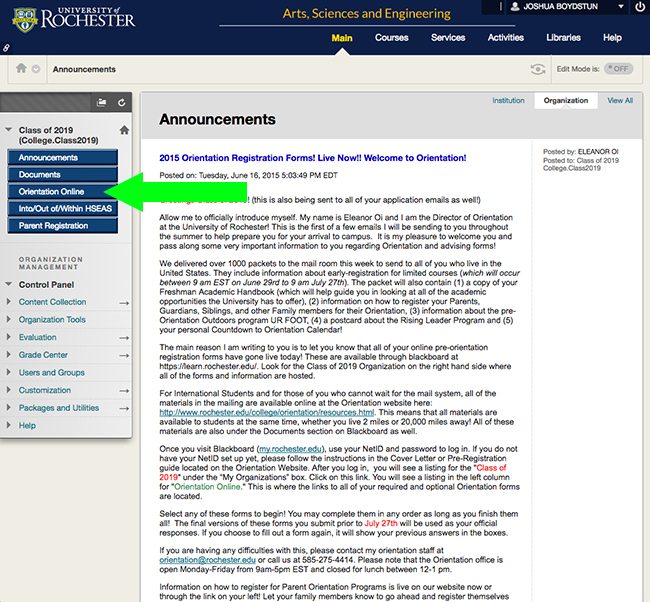 Step 4) On the "Orientation Online" page, scroll down to find the "Foreign Language Placement" section. Be sure to read the instructions below, which will provide you with the link to UR's WebCAPE page and the password required to login.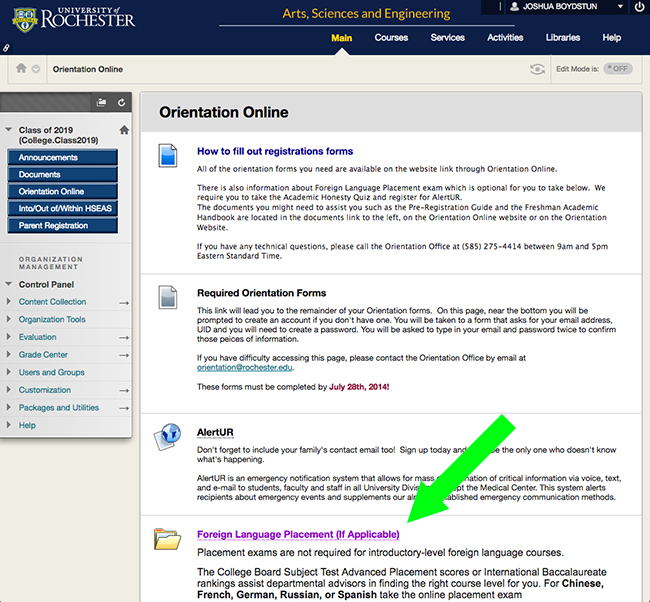 Step 5) Login to UR's WebCAPE account using the password provided in Blackboard.

Step 6) Select the desired option from the "Language" menu and click the "Begin" button. Before the actual test, you will be asked to enter some personal data (name, URID, email) and information about your language background. Please be as thorough as possible, as this information is critical to our ability to accurately determine your placement.

Note: Any semester placement you may receive with your online numerical test score is not based on UR's official placement rubrics and, therefore, should not be taken as an indication of your actual placement.
If you took the WebCAPE prior to July 31, please consult your advisor for your placement results. If you took the WebCAPE after July 31 or if your advisor does not have your placement information, please consult the appropriate program representative listed below:
Chinese
Ping Pian
Associate Professor of Instruction in Chinese, Chinese Program Advisor
Phone: (585) 275-4251
Email: ping.pian@rochester.edu 
French
Carole Nasra
Assistant Professor of Instruction in French, Language Placement Coordinator
Phone: (585) 275-4251
Email: cnasra@ur.rochester.edu 
German
Susan Gustafson
Karl F. and Bertha A. Fuchs Professor of German Studies, Head for the German Program 
Phone: (585) 275-4251
Email: susangustafson@rochester.edu 
Italian 
Teresa Murano 
Associate Professor of Instruction in Italian
Phone: (585) 275-4251
Email: teresamurano@gmail.com
Russian
Laura Givens
Professor of Instruction in Russian
Phone: (585) 275-4251
Email: laura.givens@rochester.edu 
Spanish
Kirt Komocki
Associate Professor of Instruction in Spanish
Phone: (585) 275-4251
Email: kkomocki@ur.rochester.edu