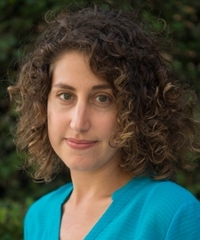 Anna Rosensweig
James P. Wilmot Distinguished Assistant Professor of French
PhD, University of Minnesota
428 Lattimore Hall
(585) 275-4251
anna.rosensweig@rochester.edu
Office Hours: Spring 2021; by appointment only.
---
Biography
Rosensweig's scholarship and teaching focus on early modern literature and culture, the intersections of literature and political theory, and performance studies. Her work has appeared in journals such as L'Ésprit Créateur, the French Review, and Renaissance Drama. She is currently completing a book manuscript titled Subjects of Affection: Rights of Resistance on the Early Modern Stage, in which she locates a new genealogy of rights in early modern tragedy. Rosensweig has also begun a second book, Building the Royal Body, which investigates how early modern dramas and political ceremonies align the king's body with elements of urban architecture.
Courses Offered (subject to change)
CLT 389 :  MLC Research Seminar (Fall 2018)
FR 202:  Introduction to Literature in French (Spring 2017)
FR 204:  Contemporary French Culture (Fall 2017)
FR 227:  Laughing Matters: Comedy in Early Modern France (Spring 2018)
FR 237:  Performance Studies (Spring 2017)
FR 244:  Crimes of Passion: Love and Death on the Classical French Stage (Fall 2018)
FR 257:  Sex, Lies, and Secrets: Libertinism in Early Modern France (Fall 2017)
Selected Publications
"Closed Heart, Open Secret: Exposing Private Liberty in Corneille's Last Tragedy," Renaissance Drama 46.2 (2018): 231-252.
"The Eye of Paris, the Eye of France: Capital Bodies in Claude Billard's La mort d'Henri IV." Paris, Imagined Capital:Economic Transition and Modernity (17th to 19th Centuries). Spec. issue of L'Esprit Créateur, vol. 55, no. 3, Fall 2015, pp. 15-28. Project MUSE, doi:

10.1353/esp.2015.0032

.
"'Toute la cité pleure': La mise en scène du peuple thébain dans Antigone ou la Piété de Robert Garnier." La Foule au théâtre, edited by Pascale Drouet and Françoise Dubor. Spec. issue of Cahiers FoReLL (Formes et Représentations en Linguistique et Littérature), Apr. 2015, 09.edel.univ-poitiers.fr/lescahiersforell/index.php?id=279.
"Performing Off-Staged Violence in Rachilde's Drama." Visualizing Violence in Francophone Cultures, edited by Magali Compan, Cambridge Scholars, 2015, pp. 131-46.
"Hearing Witness: Literary Listening as a Duty of Memory in Rwanda." French Review, vol. 86, no. 4, Mar. 2013, pp. 744-55.
Honors and Activities
Co-organizer, Early Modern French Studies Reading Group, MLA Commons, 2012-present
Provost's Postdoctoral Scholar in the Humanities, Department of French and Italian, University of Southern California, 2014-2016
Charlotte W. Newcombe Dissertation Fellowship, Woodrow Wilson Foundation, Washington, DC, 2013-2014