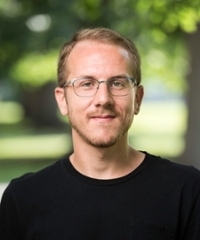 Andrew Korn
PhD, University of Pennsylvania
411 Lattimore Hall
(585) 275-4251
andrew.korn@rochester.edu
Office Hours: Spring 2021; by appointment only.
---
Biography
Andrew Korn's research deals with issues of desire, subjectivity,relationality and politics in modern Italian literature and cinema. He has published articles on the films of Liliana Cavani, Michelangelo Antonioni and Marco Berger. Korn is currently writing a book on author Pier Paolo Pasolini's tragic plays.
Courses Offered (subject to change)
ITAL 101:  Elementary Italian I (Fall)
ITAL 102:  Elementary Italian II (Spring)
ITAL 151:  Intermediate Italian I (Fall)
ITAL 152:  Intermediate Italian II (Spring)
ITAL 242:  The Films of Pier Paolo Pasolini (Fall 2019)
ITAL 243:  Postwar Italian Directors: Fellini, Antonioni, Cavani (Spring 2019)
ITAL 246:  Italian Neorealist Directors: Rossellini, De Sica, Visconti - in English
ITAL 250:  Love in Italian WWII Novels
Selected Publications
"Liliana Cavani." Twentieth-Century Italian Filmmakers, edited by Manuela Gieri and Donato Santeramo, Rome, UniversItalia, 2020, pp. 165-70, 

 

https://shop.unipass.it/home/5947-twentieth-century-italian-filmmakers.html

.

"Male Intimacy in Marco Berger's 

Plan B 

and 

Hawaii." Queer Studies in Media and Popular Culture, vol. 2, no. 3, 2017, pp. 323-337, https://www.ingentaconnect.com/contentone/intellect/qsmpc/2017/00000002/00000003/art00004.
"The Creationary Assemblage in Antonioni's Red Desert and Zabriskie Point." Rivista Luci e Ombre, vol. 3, no. 4, 2015, pp. 78-98, rivistalucieombre.com/the-creationary-assemblage-in-antonionis-red-desert-and-zabriskie-point-antonioni-deleuze-and-the-creationary-assemblage-di-andrew-korn/.
"From Image to Praxis: Mapping Desire in The Night Porter." Rivista Luci e Ombre, vol. 2, no. 1, 2014, pp. 54-74, rivistalucieombre.com/from-image-to-praxis-mapping-desire-in-the-night-porter-di-andrew-korn/.
Awards, Fellowships, and Grants
CAITY Caucus Travel Grant, Northeast Modern Language Association, January 2019
Salvatori Research Grant, Center for Italian Studies, University of Pennsylvania, Summer 2017
Teacher Study Grant, Center for Italian Studies Babilonia and American Association of Teachers of Italian, June 2016
Andrew W. Mellon Graduate Research Fellowship, Penn Humanities Forum, University of Pennsylvania, Fall 2014
Salvatori Research Grant, Center for Italian Studies, University of Pennsylvania, Summer 2014
Benjamin Franklin Fellowship, University of Pennsylvania, 2011-2014