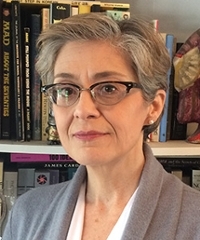 Joanne Bernardi
Professor of Japanese and Film and Media Studies
Head, the Japanese Program
PhD, Columbia University
409 Lattimore Hall
(585) 275-4251
joanne.bernardi@rochester.edu
Office Hours: Spring 2020; by appointment only.
---
Biography
My research and teaching focus on Japanese cinema and culture, particularly after 1900; popular culture; the history and historiography of moving images and other visual media; material culture studies; and critical digital humanities practice. I am author and editor of Re-Envisioning Japan, an ongoing digital humanities project comprising a physical collection and critical digital archive that documents changing images of Japan and its place in the world in the early to mid-twentieth century. The intellectual organization of the open access REJ archive, the comparative context it provides, and the variety of resources that it makes accessible model object-based research and scholarship relevant to fields as diverse as tourism studies; society, technology, class and gender studies; film and media studies; colonial and post-colonial studies; and cultural heritage and preservation.
I have published on Japanese cinema, silent cinema, moving image and media history and historiography, film preservation, digital humanities, and Godzilla and nuclear culture in journals and edited volumes. Published in 2001, Writing in Light: The Silent Scenario and the Japanese Pure Film Movement (Wayne State University Press) was the first comprehensive study of silent Japanese cinema and is the only history of writing for silent film in Japan to be published in English. I enjoy working across and in the spaces between traditional academic disciplines; this is often where the questions most relevant today arise. I am active in several of the University's interdisciplinary programs, including Digital Media Studies (Curriculum Committee), Film and Media Studies (former director and interim director of the FMS Program), the Selznick Graduate Program in Film Preservation (former Graduate Advisor and current MA thesis advisor for several students), the Graduate Program in Visual and Cultural Studies (affiliated faculty), and the Graduate Program in Photographic Preservation and Collections Management. I attended the Selznick Certificate Program in Film Preservation at the George Eastman Museum full time (2007–2008, Honorary Certificate), and I advise the UR graduate student chapter of the Association of Moving Image Archivists.
Research Overview
Courses Offered (subject to change)
JPN 207:  Film as Object (Spring 2018)
JPN 214:  Atomic Creatures: Godzilla (Fall 2019)
JPN 219A:  Tourist Japan (Spring 2018)
JPN 285:  Director Studies: Akira Kurosawa (Fall 2019)
JPN 291:  Contemporary Japanese Cinema (Spring 2010)
JPN 294:  Hayao Miyazaki and Planet Ghibli (Spring 2019)
Selected Publications
"Nitrate Did Wait: A Report on the First Nitrate Picture Show at George Eastman House, 1–3 May 2015." Journal of Film Preservation, no. 93, 2015, pp. 47-50.
"Developing Images, Defining Words." Japanese Cinema, edited by Nikki J.Y. Lee and Julian Stringer, vol. 1, Routledge, 2015, pp. 215-43. Critical Concepts in Media and Cultural Studies. Excerpted from Writing in Light, 2001.
Translator. "Does Film Theory Exist in Japan?" By Satō Tadao. Review of Japanese Culture and Society, vol. 22, Dec. 2010, pp. 14-23. JSTOR, www.jstor.org/stable/42800636.
"Dare vita alla pagina: la collaborazione con Yoda Yoshikata." Bellezza e Tristezza: Il cinema di Mizoguchi Kenji, edited by Dario Tomasi, Il Castoro, 2009, pp. 159-71.
"Teaching Godzilla: Classroom Encounters with a Cultural Icon." In Godzilla's Footsteps: Japanese Pop Culture Icons on the Global Stage, edited by William M. Tsutsui and Michiko Ito, Palgrave Macmillan, 2006, pp. 111-25.
"Osaka Elegy: Revisiting 1930s Mizoguchi." Film Analysis: A Norton Reader, edited by Jeffrey Geiger and R. L. Rutsky, Norton, 2005, pp. 260–81. (2nd ed., Norton, 2013.)
"Researching Japanese Silent Cinema: Japanese Cinema as an Academic Adventure." Asian Cinema–Yesterday, Today, and Tomorrow, edited by Myung-Kyu Park, Korean Film Archive, 2002, pp. 271-84. Published in conjunction with the Fifty-Eighth FIAF Congress, Seoul, 2002.
Translator. "Chaplin Among the Ashes: A Collector's Beginnings." By Makino Mamoru. In Praise of Film Studies: Essays in Honor of Makino Mamoru, edited by Aaron Gerow and Abé Mark Nornes, Kinema Club, 2001, pp. 68-73.
Digital Scholarship
Editor. Re-Envisioning Japan: Japan as Destination in 20th-Century Visual and Material Culture. 2013-present, rej.lib.rochester.edu/.
Work in Progress
With Shota Ogawa, editors. Routledge Handbook of Japanese Cinema. Routledge, forthcoming.

"20th-Century Monster." 

A Companion to Japanese Cinema, edited by

 David Desser, Wiley-Blackwell, forthcoming.

With Nora Dimmock. "Creative Curating: The Digital Archive as Argument."

Making Humanities Matter

, edited by Jentery Sayers, U of Minnesota P, forthcoming. Debates in the Digital Humanities Series. 
Selected Conference Presentations
"Re-Envisioning Japan: A Digital Archive of Material Culture." Archives in Between: Cultural Preservation, Material to Digital. 20 Feb. 2015, U of Rochester.
With Nora Dimmock, Joshua Romphf, and Lisa Wright. "Re-Envisioning Japan: A Faculty–Digital Humanties Center Collaboration." Pedagogy and Practices. Freedman Center for Digital Scholarship Colloquium 2014, 6-7 Nov. 2014, Kelvin Smith Library, Case Western Reserve U, Cleveland.
"Re-Envisioning Japan as Destination in 20th-Century Visual and Material Culture." Digital Media and Cultural Communication. 2014 International Conference on Digital Future and Mediated Society, 24 May 2014, Zhejiang U, Hongzhou.
"Observations on The Dragon Painter." Southern Literary Trail. 24 Mar. 2013, Marengo County History and Archive Museum, Demopolis.
"Destination Japan: Japan in Cherry Blossom Time and Japan as Seen From a Rickshaw." Wunderkino 2: On the Varieties of Cinematic Experience. Thirteenth Annual Northeast Historic Film Summer Symposium, 26-28 Jul. 2012, Bucksport.
"Re-envisioning Japan in Silent Educational and Travel Films." Cultures of Silent Film: Preservation, Reassessment, Digital Reproduction, and Contemporary Performance Panel. Sixteenth Asian Studies Conference Japan, 30 Jun.-1 Jul. 2012, Rikkyō U, Tokyo.
"Destination Japan: The Personal Collection as Alternative Archive." The Makino Collection and Early Japanese Cinema Panel. The Makino Collection at Columbia: The Present and the Future of an Archive, 11 Nov. 2011, Columbia U, New York.
「映画保存と映画研究のための大学、アーカイブ間協力」["Creating a University-Museum Alliance for Film Preservation and Research"]. Sixth Kyoto Film Preservation Workshop, 2011, Museum of Kyoto.
「日本文学—過去、現在、将来」["Japanese Studies: Past, Present, Future"]. 2016, Nagoya U.
"Yōjimbō: Global Kurosawa." Developing New Approaches to Promote Social Change. Fifty-Second Japan-America Student Conference, 21 Jul.-21 Aug. 2000, Reischauer Institute, Harvard U, Cambridge.
Teaching
Courses on Japanese culture; film history, theory, and critical analysis; nuclear history, culture, and the visual image; animation; history of US–Japan relations; material culture studies; tourism studies; moving image archiving and preservation; object-based learning
Honors and Activities
University of Rochester Pilot Research Award ($21,442), 2014-2015
Rochester Center for Community Leadership, Community Engaged Learning Grants (Tourist Japan, Film as Object), 2015, 2016
Digital Media Studies Curriculum Committee, 2015-present
NEH Summer Institute Fellow, Bard Graduate Center: Decorative Arts, Design History, Material Culture, 2013
University of Rochester College Teaching, Learning, and Technology Roundtable Faculty Grant, 2011-2012
Advisory Editor, "Camera Obscura," 2006-present
Association of Moving Image Archivists (AMIA) Educational Committee, 2005-present
Film and Media Studies Program, Director (2004-2007), Interim Director (2000-2001, 2015)
Japan Foundation Short Term Research Grant, 2003-2004
NEH Summer Institute Fellow, University of Southern California, 2002
Japan Foundation Publication Grant, "Writing in Light," 2001
Finalist, Theatre Library Association Book Award, "Writing in Light," 2001
Susan B. Anthony Research Institute for Women's Studies Research Grant, 1995
Association of Asian Studies Northeast Area Council Research Grant, 1995
ACLS International Conference Travel Grant, International Symposium on Tanizaki Jun'ichiro, Università di Venezia Ca' Foscari, 1994
Harvard University, Edwin O. Reischauer Institute of Japanese Studies Postdoctoral Research Fellowship, 1993-1994