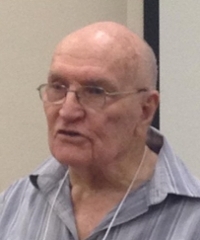 Robert ter Horst
Retired Professor of Spanish and Comparative Literature
PhD, Johns Hopkins University
---
Research Overview
Selected Publications
Books and Monographs
Articles and Book Chapters
"Francisco de Quevedo and the Poetic Matter of Patronage." Objects of Culture in the Literature of Imperial Spain, edited by Mary E. Barnard and Frederick A. de Armas, U of Toronto P, 2013, pp. 181-204. Toronto Iberic.
"The Sexual Economy of Miguel de Cervantes." Bodies and Biases: Sexualities in Hispanic Cultures and Literatures, edited by David William Foster and Roberto Reis, U of Minnesota P, 1996, pp. 1-23. Hispanic Issues 13.
"Poetics and Economics in the Vida retirada of Fray Luis de León." Hispanic Review, vol. 64, no. 2, Spring 1996, pp. 149-69. JSTOR, doi:

10.2307/474645

.
"Epic Descent: The Filiations of Don Juan." MLN, vol. 111, no. 2, Mar. 1996, pp. 255-74. JSTOR, www.jstor.org/stable/3251527.
"Cervantes and the Paternity of the English Novel." Cultural Authority in Golden Age Spain, edited by Marina S. Brownlee and Hans Ulrich Gumbrecht, Johns Hopkins UP, 1995, pp. 165-77. Parallax.