"Contranarrativas discas: Testimonio, creatividad, conocimiento"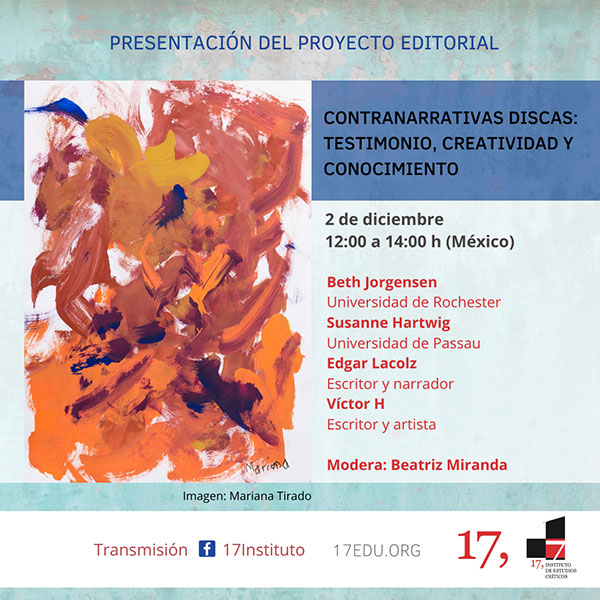 Co edited by Beth E. Jörgensen, University of Rochester, and Beatriz Miranda Galarza, 17, Instituto de Estudios Críticos (Mexico City)
"Contranarrativas discas" is a web-based publication of testimonies and personal essays written by people with disabilities in Mexico. The purpose of the project is to create an archive of first-person accounts of what it means to live with a disability in Mexico. It emphasizes reflections on the ways in which a person's disability shapes their knowledge of the world and their creativity, whether expressed in artistic works or in the creative ways by which an individual approaches everyday life. Long regarded as objects--objects of medical research, treatment and rehabilitation, discrimination, representation by others, fear, exclusion, violence--and relegated to silence, first-person narratives express the subjectivity and the agency of the disabled. In doing so, they contribute to our knowledge of the world and provide counternarratives to the dominant ableism of Western societies. The website, which is housed on the platform of 17, Instituto de Estudios Críticos, can be accessed via the following link: https://diecisiete.org/.
A videorecording of the presentation of the project held via Zoom on Friday, December 2, 2002, can be viewed via this link: https://fb.watch/hbq-GIudi0/.