Faculty in the News: Joanne Bernardi on WXXI's Connections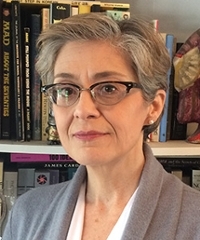 Yesterday, Joanne Bernardi, associate professor of Japanese in the Department of Modern Languages and Cultures, appeared on WXXI's Connections with Evan Dawson to discuss the on-campus photography exhibit, "Internment: The Japanese-American Experience in World War II," as well as recent calls to establish a Muslim registry modeled on the internment of Japanese-Americans during World War II. Mr. Dawson and Professor Bernardi were also joined by Margaret Miyake and Notch Miyake (whose photographs and text, respectively, are featured in the exhibit) and Ken Warner (a descendent of an American who was interned).
To listen to the discussion, visit http://wxxinews.org/post/connections-trump-surrogates-invoke-japanese-internment-legal-precedent.