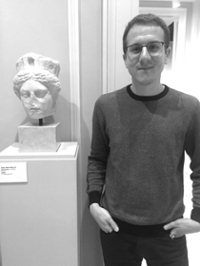 Andrew Korn
PhD candidate, University of Pennsylvania
411 Lattimore Hall
(585) 275-4849
andrew.korn@rochester.edu
Office Hours: Mondays 11:15 am–12:15 pm, Wednesdays 12:45–1:45 pm, or by appointment
---
Biography
Andrew Korn is currently completing his PhD in Italian Studies at the University of Pennsylvania, with a dissertation titled Approaching Mystery: Conflicted Bourgeois Men in Pasolini's Modern Tragedies. His project focuses on twentieth-century author Pier Paolo Pasolini's plays Affabulazione (Fabulation), Orgia (Orgy), and Porcile (Pigsty), which are part of his late-1960s Teatro di Parola (Theater of the Word). In each play, Korn examines how mystery, or the sacred, erupts into modern bourgeois life.
Korn has previously published articles on director Liliana Cavani's Il portiere di notte (The Night Porter, 1974) and director Michelangelo Antonioni's Deserto rosso (Red Desert, 1964) and Zabriskie Point (1970) in Rivista Luci e Ombre. His articles reexamine these seminal Italian films through theoretical and philosophical frameworks developed from the writings of Gilles Deleuze, Félix Guattari, and Michel Foucault, with the overarching concern to seek and investigate visualizations of a politics of desire.
More recently Korn has written on the representation of male intimacy in Argentinian director Marco Berger's Plan B (2009) and Hawaii (2013), and is currently developing a project on contemporary representations of male intimacy produced outside the United States and Western Europe.
Courses Offered (subject to change)
IT 101  Elementary Italian I (Fall)
IT 102  Elementary Italian II (Spring)
IT 151  Intermediate Italian I (Fall)
IT 152  Intermediate Italian II (Spring)
Selected Publications
"Male Intimacy in Marco Berger's 

Plan B 

and 

Hawaii." Under review.
"The Creationary Assemblage in Antonioni's Red Desert and Zabriskie Point." Rivista Luci e Ombre, vol. 3, no. 4, 2015, pp. 80-100, rivistalucieombre.com/the-creationary-assemblage-in-antonionis-red-desert-and-zabriskie-point-antonioni-deleuze-and-the-creationary-assemblage-di-andrew-korn/.
"From Image to Praxis: Mapping Desire in The Night Porter." Rivista Luci e Ombre, vol. 2, no. 1, 2014, pp. 54-74, rivistalucieombre.com/from-image-to-praxis-mapping-desire-in-the-night-porter-di-andrew-korn/.
Awards, Fellowships, and Grants
Salvatori Research Grant, Center for Italian Studies, University of Pennsylvania, Summer 2017
Teacher Study Grant, Center for Italian Studies Babilonia and American Association of Teachers of Italian, June 2016
Graduate Certificate, Cinema Studies, University of Pennsylvania, October 2014
Andrew W. Mellon Graduate Research Fellowship, Penn Humanities Forum, University of Pennsylvania, Fall 2014
Salvatori Research Grant, Center for Italian Studies, University of Pennsylvania, Summer 2014
Benjamin Franklin Fellowship, University of Pennsylvania, 2011-2014