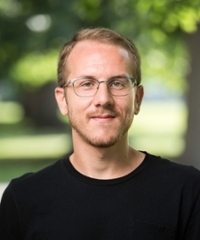 Andrew Korn
PhD, University of Pennsylvania
411 Lattimore Hall
(585) 275-4251
andrew.korn@rochester.edu
Office Hours: Fall 2020; by appointment.
---
Biography
Andrew Korn researches questions of desire, subjectivity and politics in modern Italian literature and film. He has published articles on director Liliana Cavani's The Night Porter and director Michelangelo Antonioni's Red Desert and Zabriskie Point, which advance different theorizations of a politics of desire. Korn has also published on Argentinian filmmaker Marco Berger's depiction of male intimacy in Plan B and Hawaii. Korn is currently involved in a book project on writer Pier Paolo Pasolini's tragic plays and Critical Theory, which is based on his doctoral dissertation, Subjectivity and Politics in Pasolini's Bourgeois Tragic Theater.
Courses Offered (subject to change)
IT 101:  Elementary Italian I (Fall)
IT 102:  Elementary Italian II (Spring)
IT 151:  Intermediate Italian I (Fall)
IT 152:  Intermediate Italian II (Spring)
IT 242:  The Films of Pier Paolo Pasolini (Fall 2019)
IT 243:  Postwar Italian Directors: Fellini, Antonioni, Cavani (Spring 2019)
IT 250:  Love and War in the Modern Italian Novel (Spring 2020)
Selected Publications
"Male Intimacy in Marco Berger's 

Plan B 

and 

Hawaii." Queer Studies in Media and Popular Culture, vol. 2, no. 3, 2017, pp. 323-337, https://www.ingentaconnect.com/contentone/intellect/qsmpc/2017/00000002/00000003/art00004.
"The Creationary Assemblage in Antonioni's Red Desert and Zabriskie Point." Rivista Luci e Ombre, vol. 3, no. 4, 2015, pp. 78-98, rivistalucieombre.com/the-creationary-assemblage-in-antonionis-red-desert-and-zabriskie-point-antonioni-deleuze-and-the-creationary-assemblage-di-andrew-korn/.
"From Image to Praxis: Mapping Desire in The Night Porter." Rivista Luci e Ombre, vol. 2, no. 1, 2014, pp. 54-74, rivistalucieombre.com/from-image-to-praxis-mapping-desire-in-the-night-porter-di-andrew-korn/.
Awards, Fellowships, and Grants
CAITY Caucus Travel Grant, Northeast Modern Language Association, January 2019
Salvatori Research Grant, Center for Italian Studies, University of Pennsylvania, Summer 2017
Teacher Study Grant, Center for Italian Studies Babilonia and American Association of Teachers of Italian, June 2016
Andrew W. Mellon Graduate Research Fellowship, Penn Humanities Forum, University of Pennsylvania, Fall 2014
Salvatori Research Grant, Center for Italian Studies, University of Pennsylvania, Summer 2014
Benjamin Franklin Fellowship, University of Pennsylvania, 2011-2014