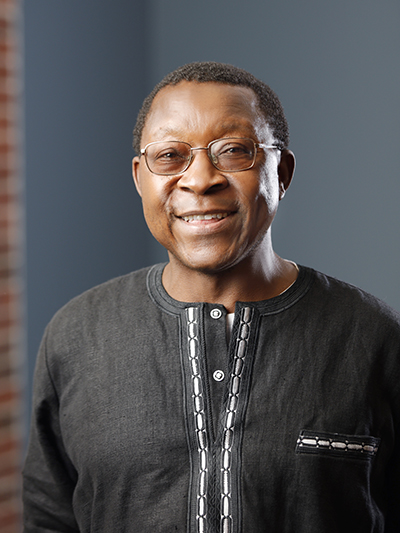 Cilas Kemedjio
Professor of French
Director, the Frederick Douglass Institute for African and African-American Studies
PhD, Ohio State University
311B Morey Hall
(585) 273-5346
cilaskemedjio@rochester.edu
Office Hours: Spring 2019: By appointment only
---
Research Overview
Courses Offered (subject to change)
AAS 380:  African and African-American Studies Senior Seminar (Fall 2018)
FR 202:  Introduction to Literature in French (Spring 2016)
FR 204:  Contemporary French Culture (Fall 2015)
FR 228:  Humanitarianism and Its Discontents (Fall 2019)
FR 239:  Representing African-Americans in the African Imagination (Fall 2018)
FR 243:  Mutilated Bodies: From Traditions to Cutting-Edge Technologies (Spring 2019)
FR 247:  Black Paris (Spring 2018)
FR 250:  Black Paris - 2 credits (Spring 2018)
FR 271:  Introduction to Francophone Literature (Fall 2019)
FR 272:  Madness and Postcolonial Literature (Spring 2013)
FR 274:  Caribbean Novel and Theory (Spring 2014)
FR 286:  Growing Up in French (Fall 2014)
Selected Publications
Books and Monographs
The Humanitarian Misunderstanding: Remembering Globalization. In progress.
With Cecelia Lynch, editors. Critical Investigations into Humanitarian Interventions in Africa. In progress.
Editor, introduction, annotations, and analysis. Mémoires des années de braise: La grève estudiantine de 1990 expliquée/Remember the Flame: White Papers from the 1990 Yaoundé University Strikes. Éditions Terroirs, 2013.
Mongo Beti - Le combattant fatigué. Une biographie intellectuelle. LIT, 2013. Littératures et cultures francophones hors d'Europe 7.
De la Négritude à la Créolité. Édouard Glissant, Maryse Condé et la malédiction de la théorie. LIT, 1999. Littératures des peuples noirs 1.
Articles and Book Chapters