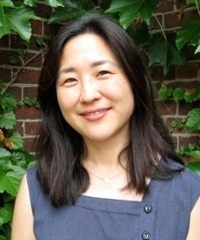 June J. Hwang
Associate Professor of German
Director, Susan B. Anthony Institute for Gender, Sexuality, and Women's Studies
PhD, University of California, Berkeley
538 Lattimore Hall
(585) 275-4251
june.hwang@rochester.edu
Office Hours: By appointment only
---
Biography
June Hwang specializes in twentieth-century literature, film, and culture, with an emphasis on the topics of German Jewish identity, questions of modernity, film theory, and critical theory. Her book Lost in Time: Locating the Stranger in German Modernity (Northwestern UP, 2014) explores discourses of timelessness in the works of central figures of German modernity, such as Walter Benjamin, Georg Simmel, Siegfried Kracauer, and Helmuth Plessner, as well as Alfred Döblin, Joseph Roth, and Hugo Bettauer. She argues that in the Weimar Republic the move toward a-historicization is itself a historical phenomenon, one that can be understood by examining the intersections of discourses about urban modernity, the stranger, and German Jewish identity. These intersections shed light on conceptions of German Jewish identity that rely on a negation of the specific and temporal as a way to legitimize a historical outsider position, creating a dynamic position that simultaneously challenges and acknowledges the limitations of an outsider's agency. Her current work includes a collection of essays that look at the relationship between minority identities, power, privilege, and subjectivity in relation to Holocaust Studies.
Research Overview
Courses Offered (subject to change)
GER 202:  Introduction to Cultural Studies (Spring)
GER 203:  Introduction to German Literature (Fall 2015)
GER 209:  Cowboys and Indians (Fall 2013)
GER 219:  Weimar Culture (Spring 2013)
GER 234:  Strangers in a Strange Land (Spring 2014)
GER 237:  After the Wall (Spring 2013)
GER 247:  Holocaust: Affect and Absence (Spring 2019)
GER 248:  On the Move (Fall 2018)
GER 252:  Bright Lights, Big City: The Urban Imagination (Fall 2019)
GER 261:  The Promise of Cinema: Weimar Film and Film Theory (Fall 2017)
GER 262:  Strangers (Fall 2017)
GER 275:  Digital Cityscapes (Spring 2014)
GER 280:  Experimental Archives (Spring 2018)
GER 282:  Contemporary German Cinema (Fall 2019)
Selected Publications
"Alone in the City: Hugo Bettauer's Er und Sie." Seminar: A Journal of Germanic Studies, vol. 47, no. 5, Nov. 2011, pp. 559-77. U of Toronto P Journals, doi:0.3138/seminar.47.5.559.
Conference Participation
"Human Rights, Genocide, and Germans' Moral Campaigns in the World." Thirty-Ninth Annual German Studies Association Conference, 1-4 Oct. 2015, Washington, DC.
"Documentation, Archive, and Representation in Documentary Films About the Third Reich." Fourth Bienniel German Jewish Studies Workshop, Feb. 2015, Duke U, Durham. 
"Rethinking Modernism After Cultural Studies." Thirty-Seventh Annual German Studies Association Conference, 3-6 Oct. 2013, Denver.
"On the Positive Nature of Estrangement." Third Bienniel German Jewish Studies Workshop, 10-12 Feb. 2013, Duke U, Durham.
"Making the Father Visible on Film: Ludin's Zwei oder Drei Dinge, die ich von ihm weiß." Perpetrators and the Construction of Public Memory of the NS-Zeit (Sponsored by the GSA Memory Studies Network). Thirty-Sixth Annual German Studies Association Conference, 4-7 Oct. 2012, Milwaukee.
"Gen Osten Reisen und im Weste(r)n ankommen. Cowboys und Indianer im deutschen Kontext." Department of German Languages and Literature, Nov. 2011, Duke U, Durham. Invited lecture.
Honors and Activities
Summer Institute on the Holocaust and Jewish Civilization Fellowship at Northwestern University, Summer 2014
Max Kade Summer Fellowship, University of California, Berkeley, 2006
Dean's Normative Time Fellowship University of California, Berkeley, 2004-2005
Social Science Research Council/Berlin Program for Advanced German and European Studies for dissertation research at the Freie Universität Berlin, 2003-2004
Foreign Language and Area Studies Fellowship, 2002
Graduate Opportunity Program Fellowship, University of California, Berkeley, 2000-2001, 2002-2003
Fulbright Fellowship, Universität Konstanz in Germany, 1998-1999