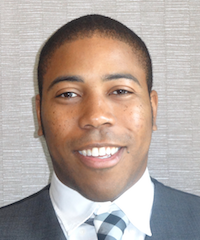 William H. Bridges, IV
Assistant Professor of Japanese
PhD, East Asian Studies, Princeton University, 2012
407 Lattimore Hall
(585) 275-2235
wbridges@ur.rochester.edu
Office Hours: Fall 2019: Wednesday and Friday, 2:00 p.m.-3:00 p.m. or by appointment.
---
Biography
William Bridges's research and teaching—which has been recognized by the Fulbright Program, the Japan Foundation, the Association for Asian Studies, and the National Endowment for the Humanities—
is underpinned by a fairly straightforward question: what is the relationship between storytelling and identity, or: in what way is fiction an object of the humanities—one that tells us who we were, who we are, and who we might become? His

 
intellectual home is at the intersection of modern Japanese literature, African American literature, and comparative literature.
Bridges is

 
particularly interested in studies of the "Black Pacific," which consider the ebb and flow of black people, thought, and culture throughout the Pacific.
  He is currently working on a manuscript entitled Playing in the Shadows: Fictions of Race and Blackness in Postwar Japanese Literature. 
His previous research—which includes an article on Nobel laureate Oe Kenzaburo's writing of Afro-Japanese existentialism, an essay on the reception history of Little Black Sambo in Japan, and an edited volume entitled

 

Two Haiku and a Microphone: Traveling Texts and Afro-Japanese Cultural Exchange—has investigated the place of fiction in the construction of racial and ethnic identities. His next research project is

 

The Black Pacific: On the Aesthetics of Racial Existence.
Courses Offered (subject to change)
CLT 200:  When War Should End (Spring 2018)
JPN 229:  Japanese Calligraphy and Graphology (Fall 2019)
JPN 230:  Poetry and Japanese Calligraphy (Fall 2018)
JPN 245:  Japan and the Future (Fall 2019)
JPN 254:  Rises & Falls of Modern Japanese Literature (Fall 2018)
JPN 258:  Japanese Science Fiction in Global Perspective (Fall 2017)
JPN 293:  Life & Anime (Spring 2019)
Selected Publications
Monograph
Playing in the Shadows: Fictions of Race and Blackness in Postwar Japanese Literature (under review)
Refereed Articles
"The Past Tense and the Future Perfect: The Postmodern Play of Watanabe Shin'ichirō and the Coming Community", The Journal of Popular Culture (2017 forthcoming)
"In the Beginning: Blackness and the 1960s Creative Nonfiction of Ōe Kenzaburō", positions:asia critique, Volume 25, Issue 2 (2017)
"Between Narratophilia and Aphasia: Silent Desire and the Dialogic Narration of Self in Ishikawa Jun's 'The Legend of Gold'", East Asia Forum, Fall 2010
Edited Volume
Two Haiku and a Microphone: Traveling Texts and the Work of Afro-Japanese Cultural Production, co-edited with Cornyetz, Nina, Lexington Books, New Studies in Modern Japan (2015)
Contributions to Edited Volumes
"Required Reading: General Education, the Crisis in the Humanity, and the Value of Reading Postwar Japanese Fiction", Teaching Postwar Japanese Fiction, ed. Bates, Alex et. al., MLA Options for Teaching Series (accepted)
"The Sun Never Sets on Little Black Sambo: The Cultural Hermeneutics of Little Black Sambo—A Transoceanic Approach", The Affect of Difference: Representations of Race in East Asian Empire, eds. Hanscomb, Chris and Washburn, Dennis, University of Hawaii Press (2016)
"Introduction", Two Haiku and a Microphone: Traveling Texts and the Work of Afro-Japanese Cultural Production, co-edited with Cornyetz, Nina, Lexington Books, New Studies in Modern Japan (2015)
"In the Beginning: Blackness and the 1960s Creative Nonfiction of Ōe Kenzaburō", Two Haiku and a Microphone: Traveling Texts and the Work of Afro-Japanese Cultural Production, co-edited with Cornyetz, Nina, Lexington Books, New Studies in Modern Japan (2015)
Translation, nonfiction
Ara, Masahito, "Second Youth," co-translated with Yamazaki, Junko, Politics and Literature Debate: Postwar Japanese Criticism 1945-1952, Lexington Books (forthcoming)
Honors and Activities
Japan Foundation Japan Studies Fellowship (2017)
Fulbright Scholar Fellowship - Japan (2016-2017)
National Endowment for the Humanities Enduring Questions Grant (2016)
University of California Humanities Research Institute Presidential Fellowship (2016)
University of California Consortium for Black Studies Research Grant (2016)
St. Olaf College Virginia Dekker Research Course Release (Declined) (2015)
GLCA Fund for the Study of Japan Grant (2013)
St. Olaf College Academic Innovation Grant - Life and Anime (2013)
St. Olaf College Academic Innovation Grant - Beginning Japanese (2013)
Mellon Foundation Digital Humanities Seed Grant (2013)
St. Olaf College Faculty Development Grant (2013)
Association for Asian Studies Annual Conference, Council of Conferences, New Voices in Asian Studies Panel ((2013)
Association for Asian Studies Mid-Atlantic Region Annual Conference, Best Graduate Student Paper (2012)
Princeton Institute of International and Regional Studies Doctoral Fellow (2011-2012)
Ford Doctoral Dissertation Fellowship (Honorable Mention) (2011)
Princeton Prize for Outstanding Doctoral Research (Runner-Up) (2010)
Fulbright Doctoral Dissertation Fellow (Japan) (2009-2010)
Princeton University Hyde Fellowship (Japan) (2009-2010)