MLC 2021 Diploma Ceremony
Faculty Presentation by Kirt Komocki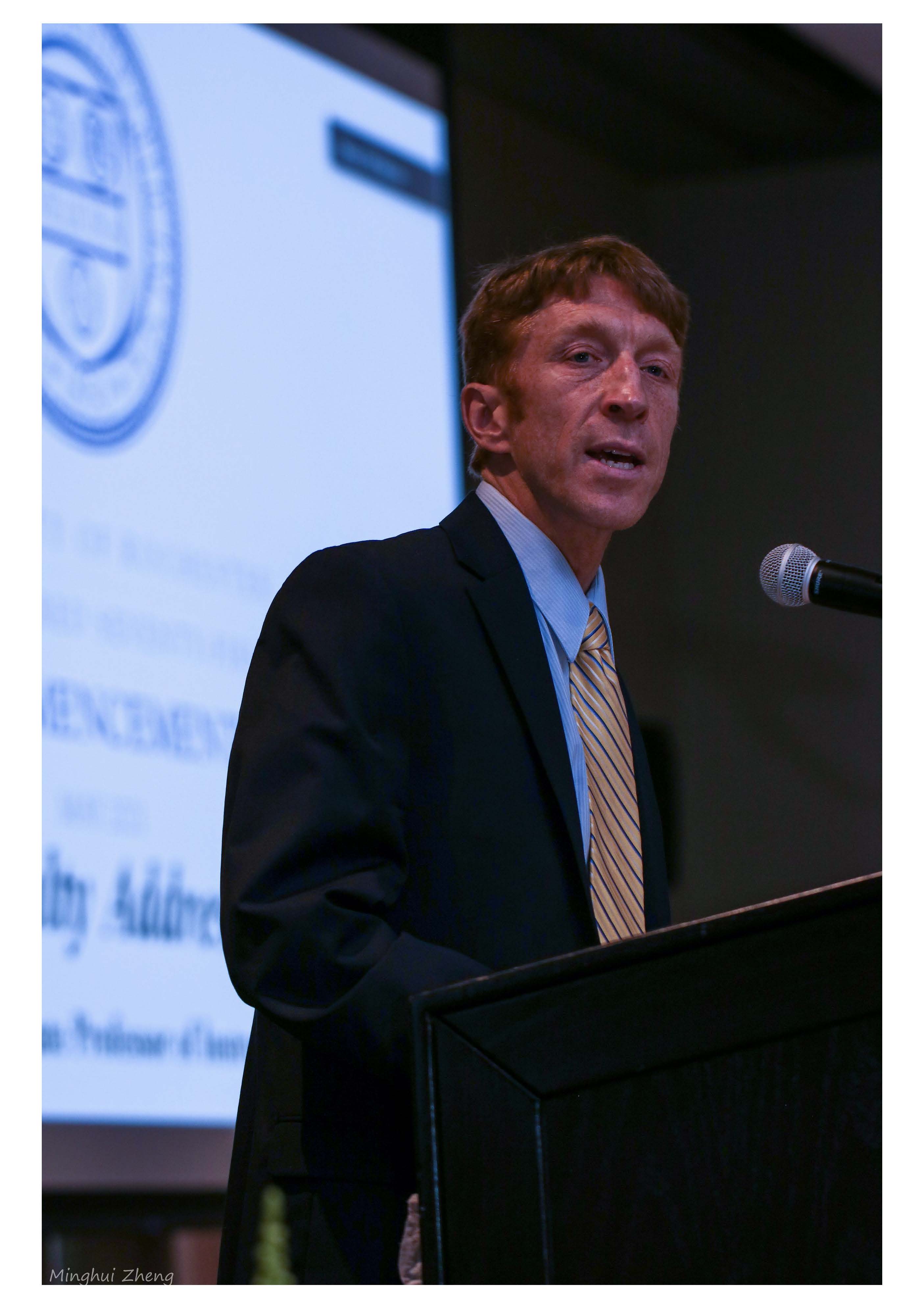 With all the change and uncertainty present in society today, it's important that we gather as a department to reflect on the fine work and to celebrate the accomplishments of our graduating students. And while we haven't completely returned to our traditional ceremony, it is comforting to have some semblance of normality.
The first order of business is to congratulate you, our graduating students, and to thank you for sharing with us your love of language and culture. Having students who embrace each challenge with a positive attitude, who are not afraid to use the target language in unfamiliar situations, or who approach literary texts and discussion topics with an open mind, makes our responsibilities even more enjoyable. Classes on campus often feel this way and are what make language learning a unique experience. Even when instruction moved to a virtual or hybrid format, you helped maintain the same level of energy and engagement in the classroom.
We appreciate all your contributions and are grateful to have a steady number of majors (over 30) and minors (over 70) in this years' class. These numbers are impressive, especially given the fact that language enrollment at the university level has been on a downward trend nationally. In fact, the 2019 report from the Modern Language Association showed that total enrollment in foreign language classes at the undergraduate and graduate level fell by 9.2% between 2013 and 2016, and that 651 individual programs were cancelled during the same period. If you go back four more years and include the data, the decline grows to 15.3%. Even more scary is the projection for the near future. The MLA will be conducting the next census this fall, with a final report projected for the spring of 2023; however, Dennis Looney, the Director of the Association of Departments of Foreign Languages at MLA is fearful that the trend will worsen.
The reasons behind this downturn vary for each case, but have been attributed to economic recession, the prioritization of STEM courses, institutions dropping language requirements, a reduction in the number of years of language classes required in high school, and the fact that foreign languages are often viewed as "less practical" than other subject areas. That's quite ironic, isn't it, especially during an age of accelerated globalization.
That brings me to my second point. In spite of the fact that the world is more connected, and that different means of communication are more accessible than ever before, we need you to continue to be ambassadors for languages, cultures and for all the humanities. We hear all the time about science, technology, engineering, and mathematics (STEM) in education as the most important subjects or the best path to a successful future. However, I maintain that the study of languages and cultures is just as crucial, if not more important, for dealing with global issues today.
History certainly proves that language mistakes can be costly.
In 2009, HSBC (Hongkong and Shanghai Banking Corporation) had to spend over ten million dollars to re-market itself, after a direct translation of its slogan "Assume Nothing" (in other words, "we don't make any assumptions about our customers across the world") turned into "Do nothing." I'm pretty sure customers lost confidence in a bank that didn't promise to look after their interests and assets.
American giants Kentucky Fried Chicken and Pepsi also survived some embarrassing translation blunders when expanding throughout China. "Finger licking good" appears to have been received too literally… I'll let you imagine how. And "Come Alive with Pepsi" was accidentally connected to the resurrection of ancestors.
Other errors in medical translations or dispatch calls, have directly impacted human lives. The 1980 case of Willie Ramírez in Florida, documented in Nataly Kelly's book, Found in Translation: How Language Shapes our Lives and Transforms the World, is an excellent example of how professional translators are needed in urgent situations. Paramedics brought the 18-year old comatose male to the emergency room. He had displayed many symptoms of a drug overdose, and family members mentioned something that sounded like Willie was "intoxicado". The first problem was that "intoxicado" doesn't necessarily mean "intoxicated". It could also refer to "being poisoned". Kelly points out that a professional translator would have "have clarified to find out what type of intoxicación they were referring to, if it wasn't already evident from the rest of the conversation". The hospital was not prepared to do this. The second problem was that when the ER doctor notified the family of his decision to treat Willie for an overdose, they disagreed but didn't openly object to an authority figure. A professional interpreter would have probably made more of an effort to understand the family's feelings (after all, Willie had never been involved with drugs) and would have helped bridge the cultural gap between the family and the doctor. As it turns out, Willie was treated for the overdose, but he had a brain hemorrhage that was discovered late and that would leave him in a quadriplegic state.
And to use a current medical example… We have seen throughout the entire pandemic just how valuable the skills and lessons acquired in language (and humanities) classes are. The Pfizer and Moderna vaccines were developed rather quickly (within a calendar year) and yielded a high rate of efficacy. One could argue that the BIGGER challenges have been getting people to believe in them; to show respect and compassion for others by following guidelines in public places; to reach out to underserved communities; to better understand the concerns and needs of others; to make important ethical decisions such as who should receive a ventilator; and as we have seen as recently as this week: to communicate clearly the recommendations for mask wearing.
Successfully navigating these scenarios means relying on skills that cannot always be quantified but that form the crux of what happens in many language or humanities classes on a regular basis. Science, Technology, Engineering and Mathematics have a significant place in the world and explain how most things function, yet without the skills and lessons learned in language classes, STEM may as well be an acronym for "STOP TEACHING, ENCOURAGE MEMORIZATION".
That brings me to my final point: as you venture out into the world. remember the skills and lessons from your language classes. Here are some examples:
Communicating effectively in different situations and registers
Understanding other cultures and communities
Making connections with other disciplines and material
Making comparisons with your own culture, language and experience
Recognizing the importance of community
Listening carefully to others
Observing your surroundings
Adapting to new situations
Using context to determine meaning
Crafting a strong thesis statement and supporting your argument with concrete examples
Relying on previous knowledge
Examining moral and ethical issues in an objective manner
Asking important questions
These skills and lessons will be important as we continue to face challenges like the pandemic, racial and social injustice, climate change and other environmental problems, and poverty. The future will bring more uncertainty, but I am confident that with your leadership, talent, experience, and determination, we will all be in a much better place.
On behalf of the faculty and staff of Modern Languages and Cultures, I once again would like to commend you for your outstanding work over the last four years and congratulate you on your graduation!