Alysha Alani '15 Wins Best Student Presenter Award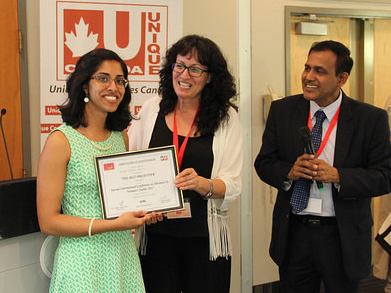 In June, Alysha Alani ('15) received the "Best Student Presenter" award at the Second International Conference on Advances in Women's Studies at Ryerson University, Toronto. Entitled "Exploring Collegiate Perceptions of Feminism through Bem's Gender Schema Theory" and based on research conducted through UR's Susan B. Anthony Center, the paper was co-authored by Angela Clark-Taylor, MS; Adriana Rogachefsky, LMFT; and Catherine Cerulli, JD, PhD.
The paper's abstract reads:
"Little research has explored single and mixed-gender college student groups' perceptions of feminism and whether this impacts their relationships; romantic or friendships. This study provides results from eight focus groups wherein an interdisciplinary team met with student groups to discuss feminism. The research team utilized framework analysis applying Bem's Gender Schema Theory. Findings suggest students' conceptualizations of feminism do in fact affect their relationships. The more confident they felt in their conceptualization of feminism as promoting equality, the more likely they were to report comfort with friends and romantic relationships. The focus groups explored whether it was possible to alter participants' perceptions of feminism when introducing new ways of thinking about equality, which proved helpful. The policy implications for campus education offerings are explored."
Alani—who majored in Spanish and Anthropology, with minors in Public Health and Gender and Women's Studies—will spend the 2015–2016 year as a Take-5 Scholar, focusing on Media and Social Change.
Photo (L to R): Alysha Alani; Professor Mally Shechory-Bitton (Israel), Conference Chair; and Prabhath Patabendi (Canada), Conference Convener.