Community Engagement News
August 20, 2019
The Rochester Science Café is a collaboration between the Rochester Institute of Technology and the University of Rochester. Held at the Pittsford Barnes & Noble book store, the Rochester Science Café is entering its eleventh academic year.  Last year we hosted 7 lively events.
---
August 19, 2019
Community Engagement Practicum (BIO 399) is now a credit-bearing undergraduate course funded by the College.  For the past two years BIO 399 has been funded by Department of Biology discretionary funds.  Now the course, which entails significant lab costs, is integrated into the Department's formal curriculum budget from the College.  And, BIO 399 has been approved as a diversification course by Biology B.A. and B.S. tracks—meaning it can be used to complete undergraduate degree requirements together with courses with more standard biological content such as Animal Behavior and Biology of Aging. 
---
April 17, 2019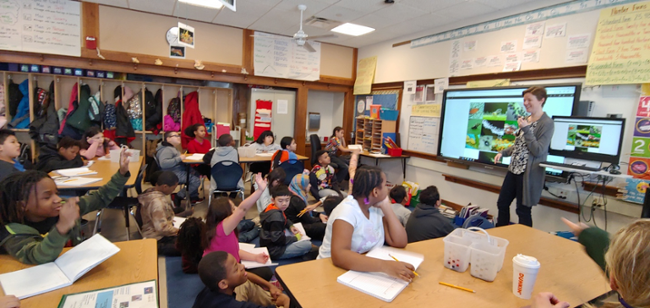 ---
March 15, 2018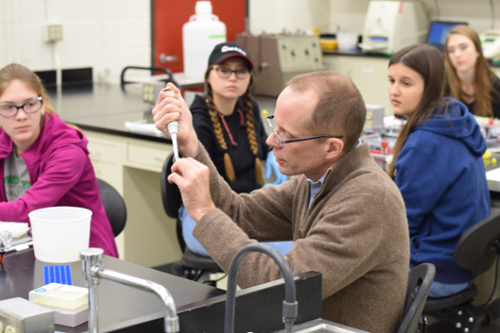 ---
September 11, 2017
The Department of Biology was delighted to welcome students from the Upward Bound (UB) Program for six afternoon lab sessions during the month of July. This marks the third summer that faculty, students, and staff have volunteered for this activity. We're hoping to make it a summer tradition.
---
May 25, 2017
Fifteen ninth graders from Rochester's East High School experienced science at its most exciting – when something startling happened during a fruit fly experiment in a lab at the University of Rochester's Department of Biology.
---
April 26, 2016
The Department of Biology launched our STEM outreach collaboration with East Upper School on April 26th with a visit by Mr. Cebrahil Gurler-Carrasquillo's 9th grade living environment class. Cebrahil was a 2014 U of R graduate.
---
April 18, 2016