Department News
Anusha Naganathan Wins Grant Supporting Outreach to Incarcerated Students
Anusha Naganathan, a Research Associate in Gloria Culver's lab, has won an ASCB Public Engagement Grant to bring science education to students in a local prison.  The title of the grant is, "UR Science Stories: Bringing the Experience of Scientific Experimentation to Students at Groveland Correctional Facility".  Eitan Freedenberg of the Rochester Education Justice Initiative (REJI) serves as co-Principal Investigator. REJI is a program at the University of Rochester that was founded in 2015 and provides academic programming at local correctional facilities, including Groveland Correctional Facility. The city of Rochester is directly impacted by the positive outcomes of REJI programs as 25% of REJI's students will return to Monroe county at the end of their sentence.
To our knowledge, this is the first extra-curricular grant won by a member of the Department of Biology that exclusively supports community engagement and social justice.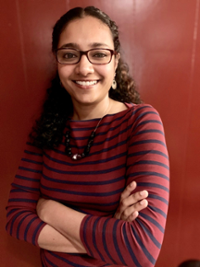 As described on the ASCB website, "The ASCB Public Engagement Grants will provide funding, mentoring, and project assessment directly to ASCB members interested in engaging with their community and gaining experience in public outreach. We hope to catalyze pilot projects to enable them to become competitive for even more substantial funding. These grants can be thought of as bridge funds to help individuals move from completely homegrown efforts to fully funded efforts."
While the grant supports a one-year pilot project at Groveland Correctional Facility, the longer-term goal is to continue collaborating with REJI to expand the model to more of our local incarcerated population, arguably society's most marginalized individuals. These incarcerated students also happen to be disproportionately from racial and ethnic minority communities that have historically lacked access to educational and economic opportunity.
Anusha's UR Science Stories program allows Department of Biology scientists, including undergraduates, to develop and present a series of video- and model-based science stories in the form of a seminar course to students at Groveland Correctional Facility. Anusha hopes the program will accomplish two things: 1. Provide a big picture view of how research happens. The students will see real people talk science instead of through a textbook or other dry content. 2. Create outreach opportunities for undergrads, graduate students, and postdocs to showcase their work by making short professional videos to introduce their research.
Anusha was first exposed to the work of REJI while designing an introductory biology course she will teach at Groveland during the 2020 fall semester. This experience opened her eyes to the importance of the socioeconomic issues surrounding mass incarceration in our region. Western NY alone is home to fourteen state prison facilities and as of 2020, there are four college programs in these facilities. She was immediately convinced that science courses could play a positive role in the lives of incarcerated students after their release and reintegration. But a big challenge is teaching inquiry-based laboratory courses in prison classrooms. "I decided to write a proposal to instead bring live science to the students and engage real scientists from their community."  Anusha found that "the folks at REJI were incredibly supportive and provided me with a lot of background information about their program at Groveland."  Anusha found a kindred spirit in Eitan Freedenberg, Assistant Director of Programming for REJI, "who was thrilled when I first mentioned this to him. His passion for improving prison education really motivated me!" 
About the award, Joshua Dubler, Faculty Director of REIJ, commented, "Making science work in a correctional setting is a difficult challenge, and Anusha's proposal makes the absolute most of the constraints. We are thrilled to expose our students to a range of original researchers. As well, in our efforts to embed the education of incarcerated and formerly incarcerated students into the cultural life of the institution, we are so pleased to be able to work with the Department of Biology on this effort, and we look forward to many future partnerships."
This coming academic year Anusha will be recruiting a number of biology labs to participate in the program.  The groups will meet with Anusha in the spring semester to develop their science stories and work with the film makers to produce videos. The videos and some hands-on models developed by the groups will be presented in a college credited course at Groveland in Summer 2021. Constraints dictated by highly restrictive prison rules and the Covid-19 epidemic are significant challenges Anusha and her team will have to overcome. 
This grant award is a significant personal win for Anusha and a win for our Department's and College's commitment to community engagement.  Anusha hopes it will be a win for the students at Groveland as well!