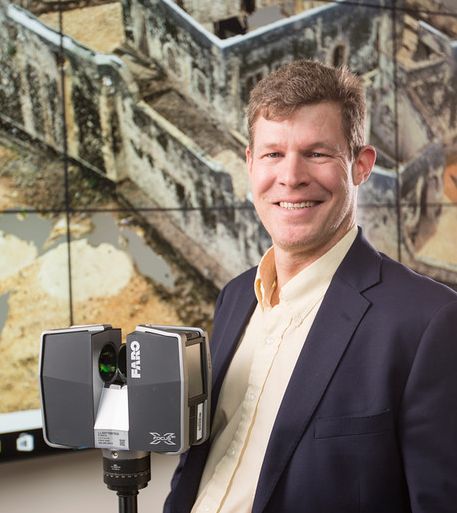 Michael J. Jarvis
Associate Professor of History
Director of Digital Media Studies Program; Director of Smiths Island Archaeology Project
PhD, College of William and Mary, 1998
455 Rush Rhees Library
(585) 275-4558
michael.jarvis@rochester.edu
Office Hours: By appointment
---
Field
American History; Global History
Research Overview
Historical Research
My abiding research interests revolve around the creation of oceanic, imperial and intercolonial networks of trade, migration, and communication and the maritime infrastructure that underpinned them. My work is broadly interdisciplinary; trained as a social historian and historical archaeologist, I also incorporate material culture, architecture, landscape/seascape studies, environmental history, and sensitivity to gender and race in the act of being historically constructed throughout the early Modern Atlantic World. Although my earlier research has focused on multiracial maritime communities in Bermuda, the Bahamas, the Caribbean and Eastern North America and seeks connections and contrasts between Spanish, Dutch, French, and British trade and settlement patterns, I have since 2016 heavily researched maritime West Africa, particularly the communities surrounding European gold- and slave-trade forts and the circum-Atlantic coastal ship and canoe transits that sustained the more heavily studied trans-Atlantic slave trade. Adding Atlantic Africa to my understanding of Caribbean and colonial British North American history helps me interpret global dynamics – the expansion of empires and capitalism, colonization as a process, ethnogenesis, mass migrations, environmental degradation, the contagion of revolutions and revolutionary ideals – in new ways within a multi-sited comparative framework.
I address many of these subjects in my book In the Eye of All Trade: Bermuda, Bermudians, and the Maritime Atlantic World, 1680-1783 (Chapel Hill: University of North Carolina Press/OIEAHC, 2010), which won the American Historical Association's James A. Rawley Book Prize in Atlantic History. I am currently completing Isle of Devils, Isle of Saints: An Atlantic History of Puritan Bermuda, 1609-1684 (Johns Hopkins University Press, 2022) as a prequel that expands our notion of a Puritan Atlantic and argues for an early complex multiracial achievement of colonial ethnogenesis inflected by Bermuda's profoundly maritime environment. 
My research methods and student training combines archaeological and archival records to expand the range of questions we can ask of the past, and finds exciting possibilities where the two intersect, overlap, and sometimes conflict. Archaeological sites and material culture can shed light on the lives and activities of poor settlers, enslaved persons, sailors, women, and children who are rarely and poorly documented in historic documents, as well as reveal illicit socializing and smuggling activities deliberately hid from record-keeping authorities. Drawing on thirty years of archaeological fieldwork excavating colonial and Revolutionary sites in Bermuda and the United States, I particularly focus on the earliest sites of English settlement, where European adaptation to a new American environment and native inhabitants (or in Bermuda's case a lack thereof) is especially profound. In 1995 I was part of the Jamestown Rediscovery field school that located the southern palisade of the original 1607 James Fort and also excavated several adjoining New Town sites for the NPS. 
Public History
Graduate Research Fields
I offer the following fields for graduate research: U.S. and the World 1500-1865; Digital & Public History; Atlantic World History 1450-1820; Maritime History in the Age of Sail; Digital Humanities Design and Development; Atlantic World Historical Archaeology. For more information on our MA and PhD programs, see our graduate program page.
I am accepting new graduate student advisees for our MA and PhD programs.
Courses Offered (subject to change)
HIST 162:  Early America to 1783, Syllabus
HIST 240/440:   Public History: Theory and Practice
HIST 280/280W/497:   Archaeology of Early America, Syllabus
HIST 282/282W/471:  Digital Hands-On History
HIST 285/285W:  Digital History: Building a Virtual St. George's, Syllabus
HIST 302W/402:  Spatial History: Putting the Past in its Place
HIST 304W/404:  Readings in Atlantic History
HIST 360W/460:  America and the World to 1865
HIST 365W/465:  Topics in Early American History, Syllabus
Selected Publication Covers
Selected Publications
In the Eye of All Trade: Bermuda, Bermudians and the Maritime Atlantic World, 1680-1783(Chapel Hill, 2010)
"The Binds of the Anxious Mariner: Patriarchy, Paternalism, and the Maritime Culture of Eighteenth-Century Bermuda," Journal of Early Modern History XIV (June 2010): 1-43.
"Maritime Masters and Seafaring Slaves in Bermuda, 1680-1783," William and Mary Quarterly, 3rd series LIX (July 2002):585-622.
Bermuda's Architectural Heritage: St. George's. volume II, Bermuda National Trust Architectural Heritage Series (Hamilton, Bermuda, 1998).
"The Vingboons Chart of the James River, circa 1617," William and Mary Quarterly, 3rd ser., LIV:357-74 (1997), with Jeroen van Driel.
"'The Fastest Vessels in the World': The Origin and Evolution of the Bermuda Sloop, 1620-1800." Bermuda Journal of Archaeology and Maritime History VII:31-50 (1995).