Research Opportunities: HOUR Program
The Department of History offers the HOUR program for undergraduate students interested in research. In this program, students collaborate with department faculty on their scholarly work.
Each semester, students can apply to assist members of the history faculty who would like help on their research projects. Students in this program will gain valuable research experience working with a variety of historic documents and evidence.
Students can receive either credit or an hourly wage through this program:
Hourly rate is $11.80. Students who are being paid with department funds, instead of out of an individual professor's research account, will be limited to payment of up to $337.50 (30 hours) a semester or during the summer (to be determined with a professor). Students may apply for additional research hours pending availability of funds.
Credit is for HIS 395: Independent Research, providing the student completes a substantial writing assignment based on their research. If you choose this option you must:

Devise a syllabus with the professor with whom you will be working with
Register for the course online (please make sure you complete this before the University deadline) 
Apply
Students can apply online through the online hour application.
If you want to work for a professor that you have not taken a course with, you must also submit a letter of recommendation from a faculty member who has taught you. Letters of recommendations can be sent to the Department of History office or emailed to history.department@rochester.edu.
Opportunities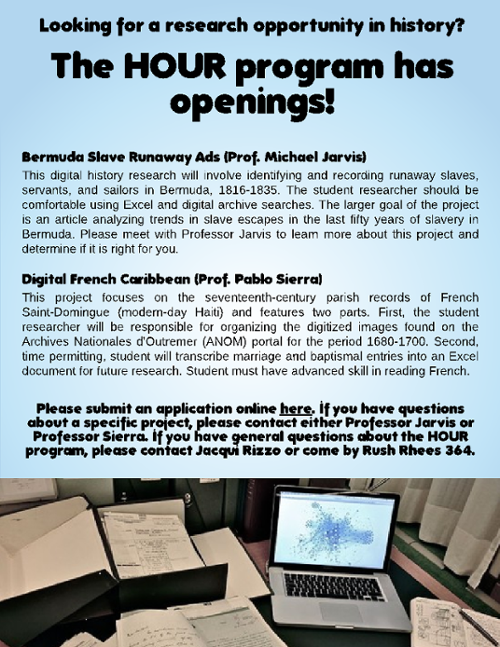 Bermuda Slave Runaway Ads (Professor Michael Jarvis)
This digital history research will involve identifying and recording runaway slaves, servants, and sailors in Bermuda, 1816-1835. The student researcher should be comfortable using Excel and digital archive searches. The larger goal of the project is an article analyzing trends in slave escapes in the last fifty years of slavery in Bermuda. Please meet with Professor Jarvis to learn more about this project and determine if it is right for you.
Digital French Caribbean (Professor Pablo Sierra)
This project focuses on the seventeenth-century parish records of French Saint-Domingue (modern-day Haiti) and features two parts. First, the student researcher will be responsible for organizing the digitized images found on the Archives Nationales d'Outremer (ANOM) portal for the period 1680-1700. Second, time permitting, student will transcribe marriage and baptismal entries into an Excel document for future research. Student must have advanced skill in reading French.
Program Testimonies
"I think I have likely had at least one HOUR student working with me every year since the program began. Since I have always put students right into the trenches of research I think it is surely one of the best ways for students to learn what we really do with our professional lives when not at the lectern or seminar table and the work has been of immense value to me as a scholar." – Richard Kaeuper
"The HOUR program was the perfect way to learn how to conduct research. Within a month of entering school, I was learning and practicing skills directly from a professional historian; it is without a doubt that the HOUR program set the foundation for much of my future success." – Brandon Pachman