Overview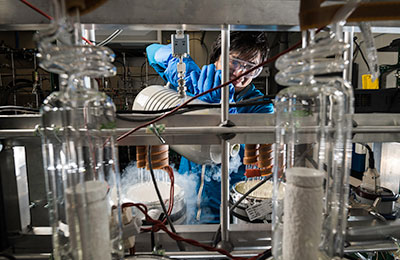 A multi-disciplinary, systems-based approach forms the basis for our undergraduate degree programs. The programs are designed to provide students with the strong science background needed to launch their careers or pursue advanced degrees.
Five flexible degree programs encourage specialization in one or more aspects of earth science:
We also offer minors in geological sciences, environmental geology, climate change science, and earth and planetary sciences.
Learning at Rochester is hands-on, with state-of-the art laboratories and field trips comprising essential components of the degree program. Undergraduate students are encouraged to participate in faculty research, with opportunities to take part in data acquisition projects worldwide. Undergraduate students work side by side with graduate students and faculty, maximizing the learning and teaching experience.
The undergraduate degree programs and research opportunities provide excellent training for graduate studies, as illustrated by our alumni holding professorships at major research institutions worldwide.
The undergraduate curriculum can also prepare students for careers in:
Environmental monitoring
Public policy
Medicine
Environmental health studies
Geotechnics
Natural hazards
Petroleum and mineral exploration
Water resources
If you have questions or concerns regarding aspects of the EES undergraduate experience, please reach out to an undergraduate peer advisor.
Major/Minor Combinations
Certain major/minor combinations are allowed in the Department of Earth and Environmental Sciences (EES).
Students majoring in geological sciences (BS/BA) or geomechanics (BS), are also allowed to minor in climate change science.
Students majoring in environmental science/studies (BS/BA), are also allowed to minor in geological sciences or earth and planetary sciences.
No student majoring in an EES discipline will be permitted to also minor in environmental geology. More specific information regarding minors and course requirements can be found on our minors page.
More information regarding majors and course requirements can be found on our major pages:
Major/Minor Course Overlap Policy
For major/minor combinations internal to the Department of Earth and Environmental Sciences, no more than one overlapping course is allowed. This policy is to promote distinct curricula between the major and minor. We believe that the flexibility built into EES majors and minors will provide significant choice for these major/minor combinations.
This EES policy does not influence any major/minor combinations outside the department. However, students will still need to adhere to the College's overlap policy. 
Senior Thesis Option
With permission and guidance from a faculty research advisor, students in their senior year can choose to pursue a senior thesis research project as the concluding event of their undergraduate degree.
By choosing the senior thesis option, students will conduct independent research and prepare a manuscript describing their explorations and findings following the style of a professional scientific journal article.
Upon the completion of a senior thesis, students will receive a letter grade from their research advisor. Students will also choose two readers, usually by recommendation of their research advisor, and the readers will determine the level of research honors (honors, high honors, or highest honors).
Typically, students will register for EESC 395: Independent Research during the fall of their senior year and EESC 393W: Senior Thesis in the spring. It is not uncommon that students will also conduct research under faculty supervision in earlier years of their degree program, however, this is not a requirement for successful completion of a senior thesis.