Field Experience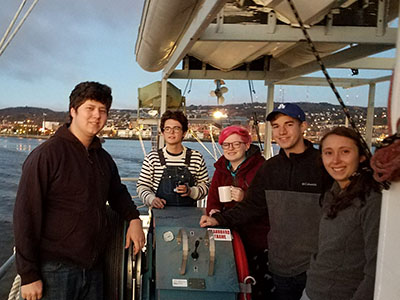 The World is your Classroom
The best way to study the earth and environment is in the real world. That's why our teaching is hands-on and on-site. From Antarctica to Africa, our students work alongside distinguished faculty in state-of-the-art laboratories and on expeditions worldwide. For more details on current research groups, please visit our research page.
Students can also join summer research opportunities with outside organizations.
Field Experience in the US
The department considers field experience to be a valuable part of geological training and incorporates field trips into the regular schedule of many of the undergraduate courses. Students take excursions within New York and adjoining states or can participate in a course that provides field experience studying active geological processes in California.
Field Experience Abroad
Faculty encourage advanced undergraduates to participate in North American and overseas field research programs. Most undergraduates participate in active laboratory research in fields such as:
Geophysics
Geochemistry
Paleontology
Petrology
Structural geology
Tectonics
Seismology
Stratigraphy
Geodynamics
Magneto-stratigraphy
Geology
Public policy
Paleoclimate studies
Environmental geology
Student Organizations
The Society of Earth and Environmental Science Students (SEESS) is an active student-led organization that provides special field trips, welcomes speakers from other universities and colleges, and hosts social events throughout the academic year.