Overview
The chemistry department's research is regularly featured in journals, publications, and news outlets. In addition, our faculty consistently garner awards and recognitions for their work.   For more information, please see our news archive and annual department newsletter. 

Each semester the department also sponsors numerous events and seminars on chemistry-related topics. View our listing of departmental events and check out our seminar and colloquia schedule for this year's presentations. These provide opportunities to learn about the latest research projects in chemistry while networking with fellow researchers, faculty, and students.

Don't forget to also follow us on Facebook!


---
Upcoming Speakers
Mon, May 14, 2018 • 4:00 PM - 5:00 PM
473 Hutchison Hall
---
Wed, May 16, 2018 • 12:00 PM - 1:00 PM
Lander Auditorium, 140 Hutchison Hall
---
Wed, May 23, 2018 • 12:00 PM - 1:00 PM
Lander Auditorium, 140 Hutchison Hall
---
Recent News
May 10, 2018

Viktoria Steck, a fourth-year graduate student in Prof. Fasan's research group, was awarded an American Chemical Society (ACS) Division of Inorganic Chemistry Travel award. With support from this award, Viktoria attended the 255th ACS Meeting in New Orleans, LA, where she presented a talk on her research entitled: "Mechanism-guided design of efficient P450 catalysts for C-H amination via nitrene transfer".
---
May 1, 2018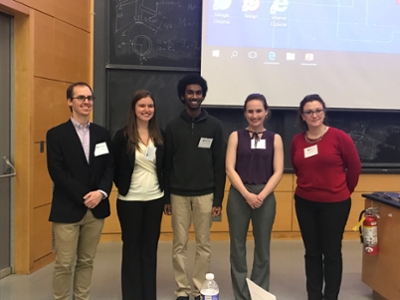 Merjema Purak, undergradute student in the Matson Group, was awarded best talk at the 2018 ACS Western New York Undergraduate Rsearch Symposium. Merjema presented her research on "Kumada Coupling of Halogenated N-Heterocycles Using a Manganese Salt."
---
April 27, 2018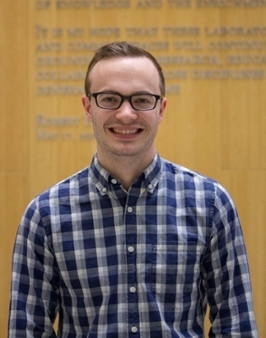 Hayden Carder, who graduates this year with a B.S. in Chemistry, has been selected as an awardee for the NSF Graduate Fellowship Award.
---
Upcoming Departmental Events
The Diploma Ceremony for Chemistry BS and BA majors will be on Sunday, May 20th, 2018, at 3:30 p.m., in Douglass Feldman Ballroom.  There will be a reception immediately afterwards in the adjoining section of the Douglass Feldman Ballroom.
Come help us celebrate our graduating Class of 2018!
Sun, May 20, 2018 • 3:30 PM - 6:00 PM
Douglass Feldman Ballroom (2nd Floor)