Overview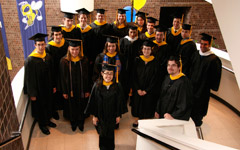 Chemistry at the University of Rochester combines a tradition of more than 150 years of excellence in research with a dedicated approach to undergraduate and graduate education. We combine the power of a research university with a closely knit and collegial department.
Staying Connected
Our alumni play an important role in our community. The input of alumni, parents, and friends is vitally important in supporting what is already excellent about the department and contributing to new initiatives that expand our educational and research mission. We encourage you to stay in contact. We love to hear from you!
If you've moved or haven't provided the department with your contact information in the past, please fill out the Contact Information Update Form.
If you have news about a career advancement, award, event, marriage, offspring, or anything else of note that you would like to submit to the annual Chemistry Alumni Newsletter you can do so now by filling out the Submit News Form.
Each year the Department of Chemistry sponsors an alumni social hour at the ACS National Meeting, hosts a departmental open house in Rochester, and other special activities for alumni. We invite you to attend any of the events and seminars hosted by the department. 
Giving
We have several established funds that help to support our departmental activities. All of us in the Department of Chemistry are grateful for your contribution. See our giving page for more information. 
Questions and Concerns
If you have any questions or concerns, please contact Lynda McGarry, chemistry department development administrator at alumni@chem.rochester.edu or (585) 275-2915.