Chemistry-Biology Interface Retreat: Poster Session, Talks, Networking
June 16, 2017
09:30 AM - 02:30 PM
Staybridge Suites, banquet room, lower level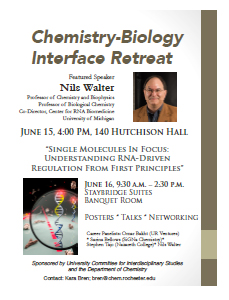 The goal of the CBI Retreat is to increase interactions between Biology & Chemistry groups at the University of Rochester.
On Friday, June 16, the CBI Retreat will reconvene in the Banquet Room (lower level) of the Staybridge Suites across the river from the University of Rochester.  We will begin at 9:30 am with a poster session followed by lunch, student and faculty talks on a wide variety of studies, and a "Career Panel Discussion".
Career panelists:
  - Omar Bakht (UR Ventures)
  - Sarina Bellows (SiGNa Chemistry)
  - Stephen Tajc (Nazareth College)
  - Nils Walter (U. Michigan)
Co-sponsored by the Department of Chemistry and the University Committee for Interdisciplinary Studies.
Links:
Retreat Flyer
Featured Speaker Seminar
Photographs
Category: Department Events