Overview
The chemistry department's research is regularly featured in journals, publications, and news outlets. In addition, our faculty consistently garner awards and recognitions for their work. See our news archive for past stories.
Each semester the department also sponsors numerous events and seminars on chemistry-related topics. View our listing of departmental events and check out our seminar and colloquia schedule for this year's presentations. These provide opportunities to learn about the latest research projects in chemistry while networking with fellow researchers, faculty, and students.
Don't forget to also follow us on Facebook!


---
Upcoming Speakers
Dr. Rebecca Ruck
Fri, September 15, 2017 • 9:00 AM - 10:00 AM
Hutchison Hall 473
---
Professor Sara Skrabalak
Wed, September 20, 2017 • 4:00 PM - 5:00 PM
Lander Aud. Hutchison Hall 140
---
Professor Dehue Pei
Fri, September 22, 2017 • 9:00 AM - 10:00 AM
Hutchison Hall 473
---
Professor William H. Miller
Wed, September 27, 2017 • 12:00 PM - 1:00 PM
Lander Aud. Hutchison Hall 140
---
Professor Sagar D. Khare
Fri, September 29, 2017 • 9:00 AM - 10:00 AM
Hutchison Hall 473
---
Recent News
August 11, 2017
Chemistry major Austin Bailey '18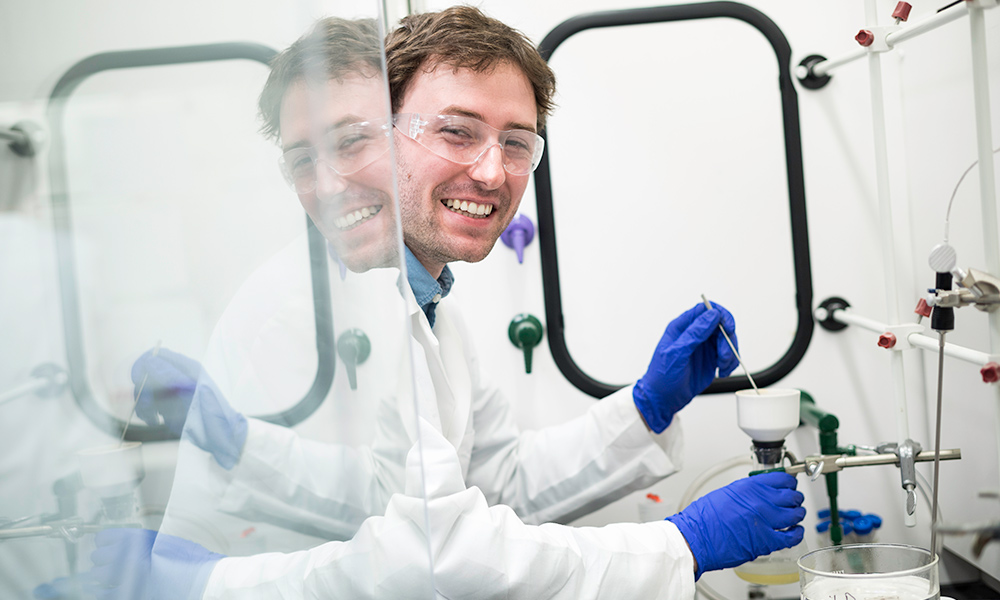 (T5) has been able to carry out specialized research to a rare degree for an undergraduate student. As a participant in the National Science Foundation–funded Research Experience for Undergraduates (REU) in summer 2015, he was introduced to the world of carbon nanotubes. He's been studying them ever since.
---
May 29, 2017
At one time you could wander through the labs of pharmaceutical companies and hardly ever see light being used to mediate chemical reactions. Now "photoredox catalysis" has become an essential way to synthesize novel organic compounds.
---
May 17, 2017
Ignacio Franco, Assistant Professor of Chemistry and Physics, was awarded the ACS OpenEye Outstanding Junior Faculty Award for Fall 2017. The ACS COMP OpenEye Outstanding Junior Faculty Award program provides $1,000 to up to four outstanding tenure-track junior faculty members to present their work in COMP poster session at the Fall 2017, Washington DC ACS National Meeting. The Awards are designed to assist new faculty members in gaining visibility within the COMP community. Award certificates and $1,000 prizes will be presented at the COMP Poster session.
---
Upcoming Departmental Events
There are no events.