Overview
The chemistry department's research is regularly featured in journals, publications, and news outlets. In addition, our faculty consistently garner awards and recognitions for their work. See our news archive for past stories.
Each semester the department also sponsors numerous events and seminars on chemistry-related topics. View our listing of departmental events and check out our seminar and colloquia schedule for this year's presentations. These provide opportunities to learn about the latest research projects in chemistry while networking with fellow researchers, faculty, and students.
Don't forget to also follow us on Facebook!
---
Upcoming Speakers
Professor Christy Haynes
Wed, April 19, 2017 • 12:00 PM - 1:00 PM
Lander Auditorium, Hutchison Hall 140 (RC)
---
Professor Ramesh Giri
Fri, April 21, 2017 • 9:00 AM - 10:00 AM
Hutchison Hall 473
---
Professor Daniela Buccella
Mon, April 24, 2017 • 4:00 PM - 5:00 PM
Hutchison Hall 473
---
Analuz Mark, 3rd Year Talk
Fri, April 28, 2017 • 9:00 AM - 10:00 AM
Hutchison Hall 473
---
Kenneth D. Karlin
Mon, May 01, 2017 • 4:00 PM - 5:00 PM
473 Hutchison Hall
---
Recent News
April 20, 2017
Several chemistry majors have been awarded Chemistry Awards and will be recognized at this year's Chemistry Diploma Ceremony, on May 21, 2017.
---
April 20, 2017
The 2017 Janet Howell Clark Prize is being awarded to Yifei Liang (CHM BS '17). The Janet Howell Clark Prize is awarded annually to a senior woman who has shown the greatest promise in creative work in astronomy, biology, chemistry, or physics, and who has shown outstanding versatility in the mastery of allied fields. Selection is based on recommendations by the respective departments, which are evaluated by a committee appointed by the Dean of the College. The award consists of a cash prize and recognition at a special senior ceremony the Saturday of commencement. Yifei will also be recognized at the Chemistry Diploma Ceremony.
---
April 17, 2017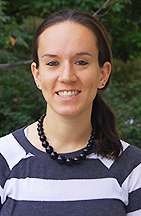 Ellen Matson, assistant professor of chemistry, and Andrew Wojtovich, assistant professor of anesthisiology, are recipients of the 2017 Furth Fund awards from the Provost's Office. 
---
Upcoming Departmental Events
Fri, May 05, 2017 • 2:00 PM - 3:30 PM
Robert B. Goergen Hall, Munnerlyn Atrium
---
Sun, May 21, 2017 • 2:00 PM - 6:00 PM
May Room, Wilson Commons