iGEM Competition Overview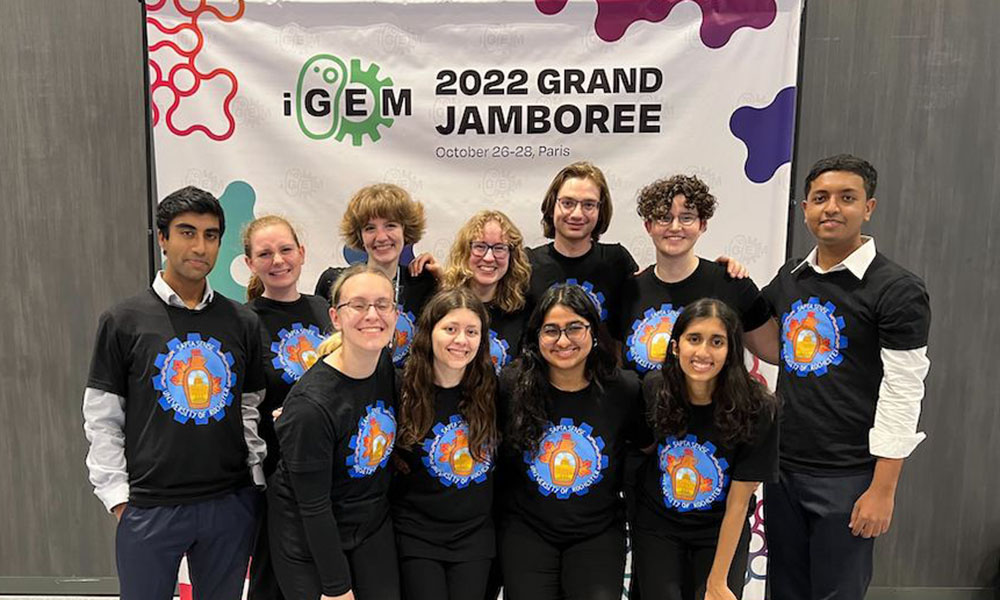 The International Genetically Engineered Machines Competition, known as iGEM, is an annual competition that tasks teams with developing projects that solve real-world problems that are functionally and socially responsible.
iGEM is the largest international synthetic biology competition for undergraduate students that helps solve real-world problems. More than 300 teams participate annually.
BIO 228 A&B Course Series/Team Rochester
BIO 228A&B is an opportunity for students of all majors to become members of a high-impact research team based at the University of Rochester, known as Team Rochester. Undergraduate participants at Rochester design and build their own engineered biological system using DNA technologies over the course of the summer.
The team collaboratively brainstorms, engineers, and produces a project for entry into the iGEM competition. In fact, Team Rochester drives the project in its entirety—from project choice, design, and experimentation, to fundraising, managing budgets, and social media.
In addition to traditional wet-lab research, participating students gain experience:
Using DNA technologies
Constructing and validating new genetic parts
Applying mathematical modeling to predict the behavior
Guiding the design of the unique biological components and characterization assays
Designing, constructing, characterizing, and improving hardware that will work together with the designed biological organism
Exploring the implications of their project in society, and performing outreach activities
Course Credits
Since iGEM activities run somewhat continuously between February and November (minus holidays), the BIO 228A&B course series is divided into two four-credit courses: one in the spring and the other in the fall semester of the subsequent academic year. See the BIO 228A&B Course Timeline (PDF).
Credit from iGEM courses do fulfill requirements of some biological science tracks and have various applications to other majors. Interested students are encouraged to talk with the track coordinators of the majors they wish to pursue to see how the BIO 228A&B course sequence may fit into their program of study.