Community Outreach

Working and studying at the University of Rochester is an exceptional privilege that often comes to those with strong backgrounds in elementary and high school education. The Department of Biology is expanding our educational mission to various demographics of the greater Rochester community, with a special focus on communities where grade school performance is lagging.
A major departmental objective is to integrate our efforts into a coordinated outreach mission that supports first-generation and/or low-income Rochester School District students beginning as early as elementary school with the goal of gaining admission into college. Other efforts are aimed at enriching educational opportunities for suburban schools and the lay general in the greater Rochester community.
For more information about community outreach contact:
Dr. Jennifer Brisson, Outreach Co-Chair
Department of Biology
326B Hutchison Hall
Box 270211
Rochester, NY 14627
(585) 275-8392
jennifer.brisson@rochester.edu
Dr. David Goldfarb, Outreach Co-Chair
Department of Biology
436 Hutchison Hall
Box 270211
Rochester, New York 14627
(585) 275-3890
david.goldfarb@rochester.edu
Outreach Programs
---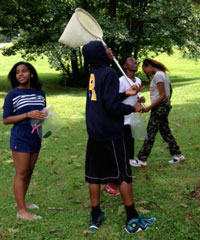 Rochester City School Programs
We are instituting multiple programs at School 58 (K–12) to support and encourage first-generation and/or low-income students to set college admission as an achievable goal. This mission is made easier by preexisting outreach agreements between the David T. Kearns Center at the University of Rochester and Rochester City School District high schools.
Our current focus is on enriching the educational experience of middle and high school students through in-class presentations by biology faculty and graduate students, supporting high school AP biology laboratories, visits to the Rochester campus for lab demonstrations, and tutoring programs.
---
HF-L High School Computer Club
Computer programming skills are increasingly perceived as an asset for students interested in the sciences, humanities, and the arts. Many local suburban and city schools do not offer programming courses, possibly because many teachers lack expertise.
Beginning with the 2013–2014 academic year the biology department began sponsoring a pilot Computer Programming Club at Honeoye Falls-Lima High School. The club comprises about 15 high school students who come to learn programming basics, new languages, apps, gaming, website construction, and software development.
The HF-L Programming Club meets every Friday afternoon.
---
Rochester Science Café
Since 2009, local experts and faculty from the University of Rochester and Rochester Institute of Technology have presented more than 30 topics covering all aspects of science and engineering. For presenting faculty members, the cafés provide an opportunity for the speakers to share their passion with a general audience.
Science cafés are not lectures; rather they are highly interactive conversations. The cafés are held on the fourth Tuesday of the month (excluding December) during the academic year at Barnes and Noble Booksellers on Monroe Avenue in Pittsford. Schedule and information about the cafés can be found at sciencecaferochester.blogspot.com.
---
The Posse Program at the University of Rochester
In fall 2014, the University of Rochester began participation in the Posse Program. This is one of the most comprehensive and renowned college access and youth leadership programs in the United States. Students are recruited into the program from high schools that are usually overlooked by traditional college recruitment programs, on the grounds that "talent is everywhere, but opportunity is not."
Posse scholars receive a merit-based leadership award for four years of support. The college graduation rate for posse scholars is an outstanding 90 percent. Many former posse scholars now occupy positions of local and national prominence in business, education, health care, law, non-profit, and government organizations.
Our first group of 10 posse scholars were mentored by Dr. Terry Platt, past professor of biochemistry and biophysics, and of biology, and co-director of the Center for Workshop Education in the College.