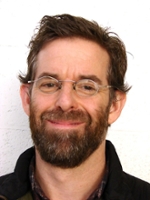 Daven C. Presgraves
Dean's Professor
On sabbatical until July 2023
PhD
481 Hutchison
(585) 275-0925
daven.presgraves@rochester.edu
Office Hours: By appointment
---
Research Overview
Our lab studies a variety of questions in evolutionary genetics using Drosophila as a model system. We combine classical, molecular, and population genetics to study the genetics of speciation, the interaction of recombination and natural selection, and the evolutionary dynamics of the selfish meiotic drive gene complex, Segregation Distorter.
Speciation Genetics
We study the genetics of postzygotic reproductive isolation--the sterility and inviability of species hybrids. Our work on the evolution of hybrid sterility and inviability takes advantage of the genetic and genomic resources of D.melanogaster and its sister species, D.simulans, D.sechellia, and D.mauritiana to map, identify, and characterize the 'speciation genes' that cause hybrid fitness problems.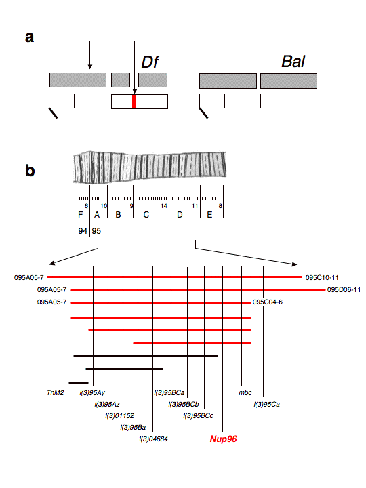 We also determine the causes of the strong evolutionary rules that characterize the evolution of hybrid sterility and inviability, like Haldane's rule and the large X-effect.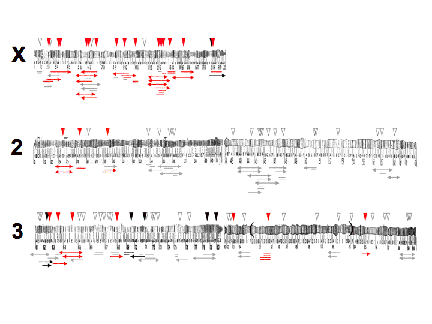 Recombination and adaptation
We study the interaction of natural selection and recombination in two ways. First, we use population genetics to test the considerable body of theory that predicts that genetic linkage constrains adaptation. Second, we are now studying the genetic basis of the evolutionary divergence of local recombination rates among closely related Drosophila species.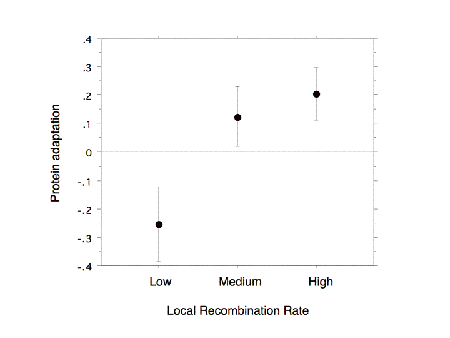 Segregation Distorter
The Segregation Distorter (SD) system of Drosophila melanogaster is a classic selfish gene complex. The multiple, linked, epistatically interacting loci of the SD complex function together to gain a transmission advantage from heterozygous males by, in effect, killing rival sperm that bare homologous chromosomes. We are now studying the evolutionary dynamics of SD in natural populations and inferring the timing and geography of its origins.
Selected Publications
Muirhead, C.A. and D.C. Presgraves 2015 Hybrid incompatibilities, local adaptation, and the genomic distribution of natural introgression between species. American Naturalist, in press.
Tang, S. and D.C. Presgraves 2015 Lineage-specific evolution of the complex Nup160hybrid incompatibility in Drosophila.Genetics200: 1245-1254.
Brand, C.L., A.M. Larracuente and D.C. Presgraves 2015 Origin, evolution, and population genetics of the selfish Segregation distorter gene duplicaion in European and African populations of Drosophila melanogaster. Evolution69: 1271-1283.
Garrigan, D., S.B. Kingan, A.J. Geneva, J.P. Vedanayagam and D.C. Presgraves 2014 Genome diversity and divergence in Drosophila mauritiana: multiple signatures of faster X evolution.Genome Biology & Evolution6: 2444-2458.
Meiklejohn, C.D. and D.C. Presgraves 2012 Little evidence for demasculinization of the Drosophila X chromosome among genes expressed in the male germline.Genome Biology and Evolution4: 895-904.
Cattani, M.V., S.B. Kingan and D.C. Presgraves 2012 Cis- and trans-factors contribute to heterogeneity in the rate of crossing over among the Drosophila simulans clade species.Journal of Evolutionary Biology25: 2014-2022.
Larracuente, A.L. and D.C. Presgraves 2012 The selfish Segregation Distorter complex of Drosophila melanogaster.Genetics192: 33-53.
Garrigan, D., S. Kingan, A. Geneva, K. Thornton, P. Andolfatto, A.G. Clark, and D.C. Presgraves 2012 Genome sequencing reveals complex speciation of the Drosophila simulans clade.Genome Research22: 1499-1511.
Cattani, M.V. and D.C. Presgraves 2012 Incompatibility between X chromosome factor and pericentric heterochromatic region causes lethality in hybrids between Drosophila melanogaster and its sibling species.Genetics191: 549-559.
Xu, K., S. Oh, T. Park, D.C. Presgraves and S.V. Yi 2012 Lineage-specific variation in slow- and fast-X evolution in primates.Evolution66: 1751-1761.
Gérard, P.R. and D.C. Presgraves 2012 Abundant genetic variability in Drosophila simulans for hybrid female lethality in interspecific crosses to D. melanogaster.Genetics Research94: 1-7.

2011

Sex chromosome-specific regulation in the Drosophila male germline but little evidence for chromosomal dosage compensation or meiotic inactivation.PLoS Biology9:

e1001126.

2010

Speciation genetics: Search for the missing snowball.Current Biology20:

R1073-74.

2010

Darwin and the origin of interspecific genetic incompatibilities.American Naturalist176:

S45-S60.

2010

The molecular evolutionary basis of species formation.Nature Reviews Genetics11:

175-180.

2009

Doubts about complex speciation between humans and chimpanzees.Trends in Ecology & Evolution24:

533-540.

2009

Large-scale selective sweep among Segregation Distorter chromosomes in African populations of Drosophila melanogaster.PLoS Genetics5:

e1000463.

2009

Genetics and lineage-specific evolution of a lethal hybrid incompatibility between Drosophila mauritiana and its sibling species.Genetics181:

1545-1555.

Tang, S. and D.C. Presgraves 2009 Evolution of the Drosophila nuclear pore complex results in multiple hybrid incompatibilities. Science 323: 779-782.

2008.

Sex chromosomes and speciation in Drosophila.Trends in Genetics.24:

336-343.

2007

. High-resolution genome-wide dissection of the two rules of speciation in Drosophila.PLoS Biology 5:

1890-1898

.

2007

. Pervasive adaptive evolution among interactors of the Drosophila hybrid inviability gene, Nup96. Mol. Biol. Evol24:

306-314

.

2006

. Intron length evolution in Drosophila. Mol. Biol. Evol23:

2203-2213

.

2005

. Recombination enhances protein adaptation in Drosophila melanogaster. Curr. Biol.15:

1651-1656

.

2003

. Adaptive evolution drives divergence of a hybrid inviability gene between two species of Drosophila. Nature243:

715-719 (See "News & Views" piece by M. Noor, pp. 699-700).

2003

. A fine-scale genetic analysis of hybrid incompatibilities in Drosophila. Genetics163:

955-972

.

2002

.

Patterns of postzygotic isolation in Lepidoptera.

Evolution56:

1168-1183

.

2002

. A test for faster X evolution in Drosophila. Mol. Biol. Evol.19:

1816-1819

.

2002

. Linkage limits the power of natural selection in Drosophila. Proc. Natl. Acad. Sci., USA99:

13616-13620 (Featured in "Dispatch" piece by G. Marais and B. Charlesworth in Curr. Biol. 13:R68-70).=

1998

.

Haldane's rule is obeyed in taxa lacking a hemizygous sex.

Science282:

952-954 (See "Perspectives" piece by M. Turelli)

.