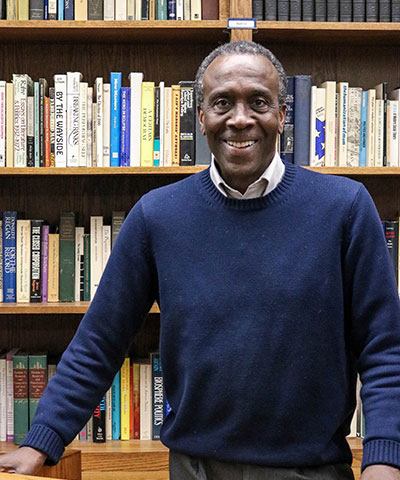 Larry E. Hudson
Associate Professor of History, retired
PhD, Keele University, U.K., 1989
370B Rush Rhees Library
(585) 275-4557
larry.hudson@rochester.edu
Office Hours: Wednesdays 11 a.m.-1 p.m.
---
Research Overview
By the early nineteenth century, slaves had begun to change their strategies for resistance. Overt violent resistance such as rebellions and mass escapes declined, instead they increased their efforts to establish and maintain institutions that would ensure their individual and collective survival. In contrast to earlier generations of slaves, their tactics were multi-pronged: to create viable families, to foster a sustaining faith, and to nurture the strength and wherewithal to withstand the physical and excruciating psychological demands of a cruel institution. However one measures the contest between enslaver and enslaved, during the most hopeless days of slavery and even in some of its most brutalizing locations, enslaved African Americans, always more patient and resilient than their owners, scored some notable victories.
My current project presents the enslaved as patient, hardworking subversives who were able to shape their world as they prepared themselves for freedom. It looks at the work environment, family life, and religious and health practices of the slaves as each of these areas was important to them because they provided the enslaved with the cultural tools with which to ensure more than mere survival of an awful system of human exploitation.
Courses Offered (subject to change)
HIST 100:  Gateway to History: Abraham Lincoln's America, Syllabus
HIST 169:  Intro to African-American Studies (AAS 110; REL 110)
HIST 170:  African American History to 1900—, Syllabus
HIST 200:  Gateway to History: Abraham Lincoln's America, Syllabus
HIST 170:  African-American History (AAS 141), Syllabus
HIST 224:  The South and the World (AAS 223), Syllabus
HIST 271W:  The New Black Family and Its Future, Syllabus
HIST 273W:  Lincoln, Douglass, and Black Freedom
HIST 269:  The Civil War (AAS 249), Syllabus
HIST 364:  The Black Family in Slavery and Freedom, Syllabus
HIST 464:  The Black Family in Slavery and Freedom, Syllabus
Selected Publication Covers
"To Have and to Hold": Slave Work and Family Life in Antebellum South Carolina (University of Georgia Press, 1997).
"'All that Cash': Work and Status in the Slave Quarters" in Working Toward Freedom: Slave Society and Domestic Economy in the American South (Rochester: University of Rochester Press, 1994), edited by Larry E. Hudson, Jr.