Distinguished Visiting Humanist
The Distinguished Visiting Humanist program brings eminent scholars and public intellectuals to the University of Rochester for three or four days to engage in such activities as:
Public lectures
Course participation
Workshops/demonstrations
Individual and group discussions
---
Amitav Ghosh: Distinguished Visiting Humanist Public Lecture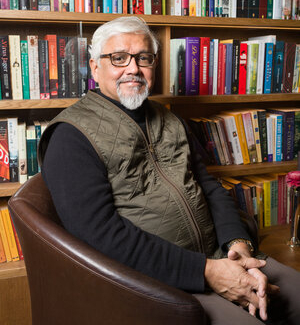 Thursday, April 7, 2022 5-6:30 p.m.
Essayist, novelist, and climate change activist Amitav Ghosh is the University of Rochester's 2021–22 Distinguished Visiting Humanist. Ghosh's public lecture is based on his latest book, The Nutmeg's Curse: Parables for a Planet in Crisis.
Sponsored by the Humanities Center.
---
Previous Distinguished Visitors:
Nominating and Selection Procedures
Any faculty member or group of faculty members may nominate a distinguished scholar in the humanities to participate in the program. Invited participants should be prominent scholars in one of the fields represented in the humanities and humanistic social sciences, and nominations should include a description of the nominee's work and accomplishments (publications, creative works, awards). The term of a resident scholar's visit will be at least three days, with the understanding that flexibility in scheduling (arrival, departure, unstructured time during the week) will facilitate attracting people whose schedules are likely very crowded.
A faculty selection committee composed of one member of each of the humanities and humanistic social science departments will review the nominations and create a ranked list of three nominees based on both the individual's accomplishments and the likely interest their residency would generate. The faculty member(s) who nominated the scholar will, in collaboration with the selection committee, determine the scope and nature of events and activities in which the visiting scholar will engage based on that person's scholarship and interests (see "Format and Activities" below). The selection committee will work to ensure a wide range of disciplines among invited scholars; the same broad discipline will not typically be represented in any two consecutive years.
Time Frame
The call for nominations from faculty will go out in the fall semester. The faculty selection committee will meet shortly thereafter to make its selection for the following academic year. As necessary, a schedule that accommodates inviting speakers more than one year in advance will be developed.
Format and Activities
Scholarship in the humanities and humanistic social sciences takes a wide variety of forms. The spectrum of activities that might be most effective would be suggested by the faculty nominating the individual humanities scholars. Any variety and number of activities tailored for particular visitors might be appropriate. In addition to a public presentation for the University community, other activities might be:
Public lectures/demonstrations, at least one of which should be accessible to undergraduates and non-experts
Faculty/student reading groups, seminars, or workshops
Studio critiques/master classes/participation in existing classes
Site visits
Drop-in office hours
Questions about the Program
For questions about the program, nomination procedures, or possible candidates, please contact William FitzPatrick (william.fitzpatrick@rochester.edu).