Distinguished Visiting Humanist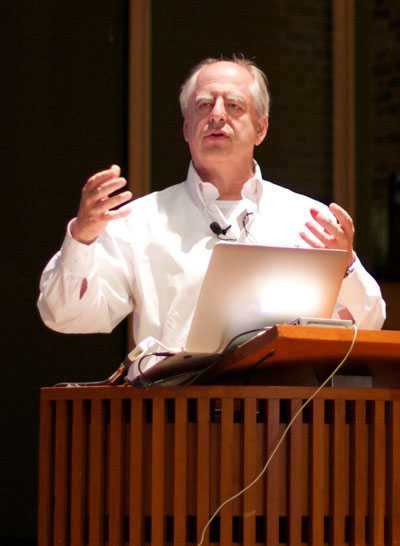 2013—William Kentridge
In tandem with Kentridge's visit, his video installation "7 Fragments for Georges Méliès," with "Day for Night" and "Journey to the Moon," will be on display at the Hartnett Gallery, Wilson Commons, from September 12-29, and a selection of his art books and flip books, with accompanying video, will on display in the front gallery of the Art & Music Library in Rush Rhees.
---
Details of William Kentridge's 2013 Visit
Wednesday, September 18
 
8:00 pm
A screening of the entire series of Kentridge's works of experimental animation, "Drawings for Projection," followed by a talk with the artist. Free to UR faculty, students, and staff.
Dryden Theater
Thursday, September 19
 
9:30 am
A conversation with William Kentridge, led by Nigel Maister, about his decades-long career as a director of theater and opera. (Please note the change of venue: this was originally scheduled for the Todd Theatre lobby.)
Welles-Browne Room, Rush Rhees Library
 
1:30 pm
A panel discussion, led by Leora Maltz-Leca, focusing on Kentridge's work in visual arts and film, with some focus on its South African context. This will be followed by the formal opening of the installation in the Hartnett Gallery of "7 Fragments for Georges Méliès," with "Day for Night" and "Journey to the Moon." (The installation in fact opens to the public this coming Thursday, 9/12)
Gowen Room, Wilson Commons
 
4:00 pm
A public lecture entitled "Everyone Their Own Projector."
Hawkins-Carlson Room, Rush Rhees Library
Thursday, February 23
 
4:00 pm
"Islam and the West"
Distinguished Visiting Scholar Public Address
Hawkins Carlson Room, Rush Rhees Library
Biographical Information
Kentridge received the prestigious Kyoto Prize in 2010, in recognition of his contributions in the field of arts and philosophy.  In 2011, Kentridge was elected as an Honorary Member of the American Academy of Arts and Letters, and received the degree of Doctor of Literature honoris causa from the University of London. In 2011 he also presented the Charles Eliot Norton Lectures at Harvard University; was elected member of the American Philosophical Society and of the American Academy of Arts and Sciences; was awarded the Dan David Prize by Tel Aviv University; and was named as Commandeur dans l'ordre des Arts et des Lettres by the French Ministry of Culture and Communication. In 2013, William Kentridge was awarded an Honorary Doctorate in Fine Arts by Yale University.William Kentridge's work has been seen in museums and galleries around the world since the 1990s, including Documenta in Kassel, Germany (1997, 2003, 2012), the Museum of Modern Art in New York (1998, 2010), the Albertina Museum in Vienna (2010), and the Jeu de Paume in Paris (2010). Kentridge's production of Mozart'sThe Magic Flute was presented at Theatre de la Monnaie in Brussels, Festival d'Aix, and in 2011 at La Scala in Milan. He directed Shostakovich's The Nose for the Met Opera in New York in 2010 (the production traveled to Festival d'Aix and to Lyon in 2011), to coincide with a major exhibition at MoMA.