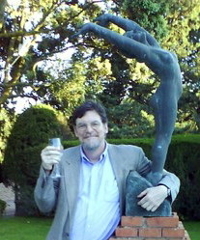 Robert B. Westbrook
Joseph F. Cunningham Professor Emeritus of History
PhD, Stanford University, 1981
329 Rush Rhees Library
Home (585) 637-8725
robert.westbrook@rochester.edu
Office Hours: By appointment
---
Research Overview
I am principally an historian of the modern United States (1865-Present). I have written a great deal on the history of philosophical pragmatism, publishing an intellectual biography of John Dewey, as well as Democratic Hope, a study of the political implications of pragmatism and neo-pragmatism. Much of my current research centers on American history in the years of the Great Depression and World War II. My work moves happily and eclectically across the supposed divides between high and popular culture, between intellectual and cultural history. These diverse interests are reflected as well in the dissertations I have advised. My transnational concerns are reflected in writing I do on recent American foreign policy and on transatlantic intellectual and cultural history.
One of the things I value most in the traditions of the history department here at the University of Rochester is the commitment to extending the public sphere in which historians practice their craft beyond the confines of a narrowly circumscribed professional and academic realm. History here has, occasionally, served as a form of social and cultural criticism. My own interventions in matters of overt public moment have of late been concentrated in the pages of The Christian Century, and Raritan.
Since retiring, I have been devoting time to the rich history of my local community, Brockport, New York. I am on the Board of Trustees of the Brockport Community Museum and the Western Monroe Historical Society/Morgan-Manning House Museum.
Selected Publication Covers
John Dewey and American Democracy (Ithaca: Cornell University Press, 1991).
In Face of the Facts: Moral Inquiry in American Scholarship (Cambridge: Cambridge University Press, 1998).
Why We Fought: Forging American Obligations in World War II  (Washington: Smithsonian Press, 2004).
Democratic Hope: Pragmatism and the Politics of Truth (Ithaca: Cornell University Press, 2005).
 "Wild Orchids" in David Rondel, ed., The Cambridge Companion to Rorty (New York: Cambridge University Press, 2021), 303-322.
 "Sally Mann and the Burden of Southern History," Raritan 40 (Spring 2021): 1-44.
 "Creative Democracy: The Task Still Before Us" in Gregory E. Kaebnick, et al., ed., Democracy in Crisis: Civic Learning and the Reconstruction of Common Purpose, Hastings Center Special Report (2021): S29-S35.
 "Socialism and the Democracy Deficit: The Quest for Radical Equality in the American Grain," The New Republic (June 2019): 30-36.
"Roughing It," Reviews in American History 47 (2019): 148-158.
"This Land Is Your Land: American Cultural Nationalism, 1929-1941" in Ichiro Takayoshi, ed., American Literature in Transition, 1929-1941 (New York: Cambridge, 2018), 198-228.