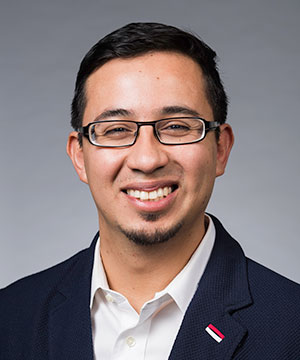 Pablo M. Sierra Silva
Associate Professor of History
PhD, University of California, Los Angeles, 2013
461 Rush Rhees Library
(585) 275-8354
pablo.sierra@rochester.edu
Office Hours: Mondays 1:30-3:30pm (Rush Rhees 461)
---
Research Overview
Interests: African Diaspora, Latin American and Atlantic History
My research is centered on the experiences of Africans and their descendants in colonial Mexico (New Spain), the Caribbean and Atlantic during the sixteenth, seventeenth and eighteenth centuries. I am particularly interested in decentering traditional master-slave narratives by highlighting afro-indigenous interactions, interrogating archival practices and emphasizing microhistorical approaches to afrodescendiente history.

My first book, Urban Slavery in Colonial Mexico: Puebla de los Ángeles, 1531-1706 (Cambridge Press, 2018), reassesses the dynamics of the transatlantic slave trade to the city of Puebla and establishes that at least 20,000 people were sold in its slave market during the seventeenth century. By focusing on distinctly urban spaces (the textile mill, the convent and the marketplace), I propose a spatial understanding of slavery in Spanish American cities. Urban Slavery also demonstrates that by the end of the seventeenth century enslaved Afro-Poblano families and their allies had successfully eroded the foundations of slaveholder power.

My second book project, "In the Wake of the Raid: Blackness, Piracy and the 1683 Sack of Veracruz," examines the violent dispersal of over 1,000 people of African descent across various Caribbean and Atlantic settlements following Laurent de Graaf's devastating attack on the port of Veracruz (in modern-day Mexico). Tracing the involuntary dispersal of this free and enslaved population to early Charleston (South Carolina), Petit-Goâve (Haiti) and other coastal communities opens new avenues of research on Caribbean piracy, the Black Atlantic and the circum-Caribbean. The raid also reveals the necessity and complexity of centering women's history in buccaneering communities. This ongoing project is supported by the National Endowment for the Humanities, the John Carter Brown Library and the Ferrari Humanities Research Award.

I am also developing a documentary history on questions of freedom and slavery in Mexico from colonial times to the early national period. I profoundly believe in sharing the documents and sources that inform shared histories of struggle and empowerment in Mexico, the United States and beyond. I am happy to facilitate workshops at all levels (K-8, high school, Upward Bound, postdoc, community collectives). For more information or sample documents, please write me at pablo.sierra@rochester.edu

In the future I hope to develop a research project on the history of sport in modern Latin America. I teach (and greatly enjoy) my course on the history futebol/fútbol/soccer and its social, political, cultural and economic implications on Brazil, Mexico, Uruguay, Colombia, Argentina and many other nations. 
I am thrilled to serve as an advisor for the University's Latin American Studies minor. Please contact me if you are interested in declaring the LAS minor. For more information on the minor and the History courses that count for LAS, please write me directly and visit http://www.sas.rochester.edu/mlc/undergraduate/spanish.html#lasminor.
Graduate Research Fields
I offer the following fields for graduate research: Colonial Latin America, African Diaspora, Atlantic History, Ethnohistory, Modern Latin America, Iberian Overseas Expansion, Comparative Slavery. For more information on our MA and PhD programs, see our graduate program page.
I am accepting new graduate student advisees for our MA and PhD programs.
Courses Offered (subject to change)
Selected Publication Covers
Selected Publications
"Afro-Mexican Women in Saint-Domingue: Piracy, Captivity and Community in the 1680s and 1690s." Hispanic American Historical Review 100, No. 1 (Feb. 2020): 3-34.- winner of the 2021 James Alexander Robertson Prize

Urban Slavery in Colonial Mexico: Puebla de los Ángeles, 1531-1706. Cambridge: Cambridge University Press, 2018.

"Portuguese Encomenderos de Negros and the Slave Trade within Mexico, 1600-1675" Journal of Global Slavery 2, Vol. 3 (2017): 221-247.

"The Slave Trade to Colonial Mexico: Revising from Puebla de los Ángeles, 1590-1640." In From the Galleons to the Highlands: Slave Trade Routes in Spanish America. Edited by Alex Borucki, David Eltis & David Wheat. Albuquerque: University of New Mexico Press, 2017.
"The Persistence of the Slave Market in Seventeenth-Century Central Mexico" Slavery & Abolition 37, no. 2 (June 2015): 307-333. Co-authored with Tatiana Seijas.
"From Chains to Chiles: An Elite Afro-Indigenous Couple in Colonial Mexico, 1641-1688" Ethnohistory 62, no. 2 (April 2015): 196-219.