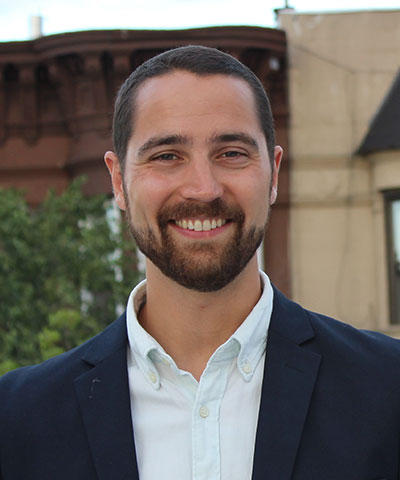 Thomas Fleischman
Assistant Professor of History
PhD, New York University , 2013
460 Rush Rhees Library
(585) 275-1140
thomas.fleischman@rochester.edu
Office Hours: By appointment
---
Field
European History
Research Overview
Dr. Thomas Fleischman received his PhD from New York University in European History in 2013. Prior to arriving at Rochester, he taught at Bowdoin College and The Cooper Union. He has won postdoctoral fellowships from the Program in Agrarian Studies at Yale University as well as the Jordan Center for the Advanced Study of Russia at NYU. His work has been recognized and supported by the Social Science Research Council, the Mellon Foundation, the American Council of Learned Societies, the German Academic Exchange Service (DAAD), and the J. William Fulbright Program. He is currently finishing the manuscript for his book, Three Little Pigs: East Germany's Green Revolution 1945-2000, which is under contract with Weyerhaeuser Environmental Books at the University of Washington Press.
Three Little Pigs is an environmental history of rural development in the German Democratic Republic (GDR). It examines the rise of the factory farm in the so-called "Workers' and Peasants' State," locating its roots in the European obsession with US American modernity in agriculture. In connecting the world of communist agriculture to capitalist development and nature in the Cold War, it reveals a history of the high cost of cheap food.
In this story, however, it is pigs—the industrial pig, the garden pig, and the wild boar—that reveal the political ecology of rural development. Since pig bodies refract changing human relationships to the environment—for example, just consider the variety of phenotypes (coloring, size, shape) expressed across dozens of domestic breeds—Three Little Pigs interprets the multiple, malleable bodies of East German hogs to reveal a history of state socialism in flesh and bone.
Beyond agriculture, Dr. Fleischman is interested in the variety of roles animals play in human history, and how "thinking" with living creatures reshapes our understanding of history. To that end, he has begun a new research project about whales, whaling, and German history from approximately 1870 to 1960, tentatively called The Petrel and the Viking: German Whaling in the First Age of Globalization.
Graduate Fields
I offer the following fields for the PhD qualifying examination. For explanations of fields, see the "Program Formulation" page in the Graduate Handbook.
Teaching Fields: Modern European History; German History
Research Fields: Modern European History; German History; Environmental History; State Socialism
I will be accepting graduate students for admission in Fall 2020.
Selected Publications
"'A Plague of Wild Boars: A New History of Pigs and People in late 20

th

Century Europe," in

Antipode: A Journal of Radical Geography

(September 2017)

Three Little Pigs: East Germany's Green Revolution, 1945-2014,

Weyerhaeuser Environmental Books, University of Washington Press, (forthcoming 2020)