Victoria Paige
Laboratory Technician, Gorbunova/Seluanov Lab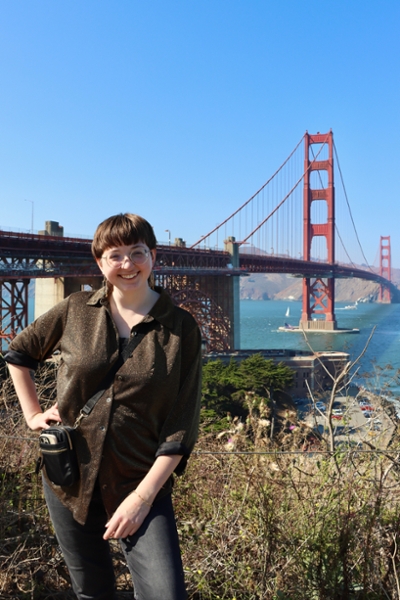 What was it that originally sparked your interest in biology?
Science was always my favorite class growing up. I loved hands-on experiments (dissections being the exception) and marveled at chemical reactions. I especially enjoyed the behavioral science of animals, seeing ways that humans relate/compare to other mammals, and learning about evolution.
What do you enjoy most about working here at the U of R?
I have a long history with the U of R. My parents met at Strong while working as Respiratory Therapists. I was born in Strong's delivery wing. Securing a job here felt like coming full-circle. Now, I get to meet my mom at Strong for coffee on our lunch breaks, 30 years later. It feels special every time.
What's the most important thing that you've learned working here and/or studying biology?
Never stop asking questions. The hunger for knowledge is the key to research! Knowing your lab-mates' strengths and brainstorming with them can lead to new ideas that you may not have considered without additional insight. Don't be afraid to ask for help or advice (there is no such thing as a bad question, no matter what anyone says!) because being confident in your work is the key to success. 
How do you unwind when you're not in the lab?
Most of my evenings are spent snuggling up with my cat while playing games on my Switch. When I have time, I work on art projects. I've always been drawn to arts & crafts, dipping my toes into as many different mediums I can get my hands on. My favorite weekend go-to is antiquing and thrifting. I'm also a huge fan of board games and tend to be absurdly good at them, much to the displeasure of any friends/family I play with.
What is one thing about yourself that you'd like more people to know?
I am utterly obsessed with Halloween and all things spooky! I'm a Libra/Scorpio cusp baby - having been born 10 days before Halloween - and the spooky spirit runs through my veins. Growing up, every birthday was a costume party. As an adult, I'm addicted to Halloween décor and keep a large portion of my decorations out year-round. When October creeps up on my calendar, I can just feel the excitement brewing in my soul!!