Elizabeth Phelps
Stockroom Clerk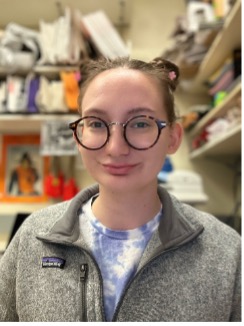 What is your current role in the biology department?
As the biology Stockroom Clerk, I ensure that the stockroom is organized, clean, and stocked for the research labs in the building. Additionally, I help maintain the record of stockroom expenses for each lab to ensure research grants are charged properly.
What do you enjoy most about working here at the U of R?
I love the work culture and environment of U of R the most. I felt accepted and included as soon as I began working here last November. Although I'm not a student here, I have been welcome to utilize the resources available here to expand my studies, and it expands my personal and professional networks even for being a part-time stockroom clerk.
How do you unwind when you're not in the office?
When I'm not working or studying, my way to unwind is to be active. If I'm not running 5k races with my best friend, we take walks, go biking, or kayaking. I can't wait to take advantage of the warm summer weather I have missed about Upstate New York. If the weather isn't good for outdoor activities, then I unwind by visiting any and all museums in the area.
How would you describe our department and the people you work with?
This reminded me of, "When you are asked how you are doing, how truthful is your answer?" and how I answered was that while I'm at work, I'm honest with how I am really doing because there is always someone willing to take the time to listen. This sort of emotional honesty shows how great the department is when caring and communicating with each other. I always feel supported by those within our department.
What is one thing about yourself that you'd like more people to know?
During the pandemic, I was finishing my contract in the Navy onboard a ship while everything closed for quarantine. The pandemic and quarantine heavily affected the Navy's operations and challenged sailors' morale. Our working schedule changed into 48-hour shifts onboard the ship with limited crewmember interaction. In response to the impacted morale and my coworkers' heightened stress, I ordered hundreds of mini rubber ducks to hide all over the ship. For the first few weeks, no one knew I was behind the idea, and the leadership and crew kept blaming each other until I broke the news to my commanding officer by presenting him with a personalized fighter pilot duck. Over five months, I hid almost five hundred mini rubber ducks within the nooks and crannies of the ship's hallways to make my coworkers happily smile during such a stressful time.