Elizabeth Brashich
Laboratory Technician, Meyer/Larracuente/Ghaemmaghami Labs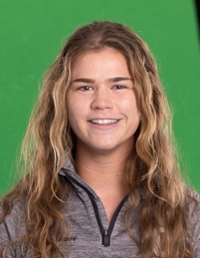 What was it that originally sparked your interest in biology?
Growing up, I was naturally drawn to science, as I was always fascinated by how the world worked. It amazes me how life, seemingly simple on the surface, holds a vast amount of complexity. Throughout my education, I was fortunate to have several outstanding teachers and mentors who helped foster my strong appreciation for biology. They helped me understand the beauty and complexity of the world, and the impact that biology can have on our daily lives.
What do you enjoy most about working here at the U of R?
I really enjoy the atmosphere and sense of community here. I feel fortunate to be surrounded by people with diverse backgrounds who are always willing to lend a helping hand. One thing that really stands out is how enthusiastic everyone is to celebrate one another's success. It's truly inspiring to be part of such a dynamic and supportive team. 
What advice would you give to prospective students looking to study in our department?
Don't be afraid to reach out and ask questions! The faculty and staff here are incredibly friendly and supportive, and they want nothing more than to help you succeed. Even if you're unsure about what you want to study, there are plenty of resources and tools available to help guide you. Explore as much as possible and take advantage of all the opportunities the department has to offer.
What's the most important thing that you've learned working here and/or studying biology?
Stay curious and keep an open mind! You can learn something new every day. Working here has shown me how important it is to learn from others' experiences and expertise, as everyone brings a unique perspective to the table. I'm constantly amazed by the passion and pride that my colleagues bring to their research here.
How do you unwind when you're not in the lab?
When I am not in the lab, I like to unwind by baking! I really enjoy experimenting with different recipes and ingredients and seeing how they come together. It's always exciting to find out what the final product is going to be, even when the recipe doesn't go as planned. There's nothing better than a science experiment where you can eat the results!