Louise He
Master's Student, The Meyer Lab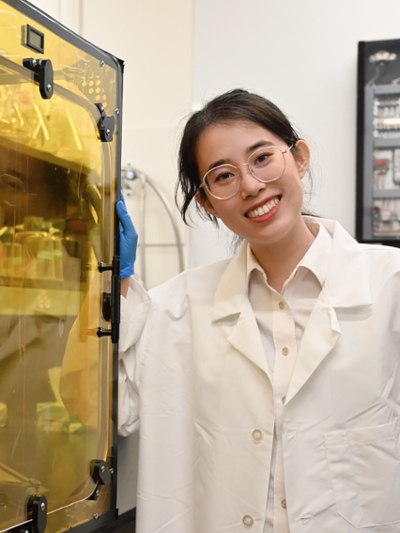 You work in a laboratory.  What are you currently researching?
In the Meyer Lab, I am involved in the development of bioplastics that can biodegrade in the ocean to prevent marine plastic pollution. Using the first of its kind bacterial 3D printer developed by Dr. Meyer and members of our lab, I am creating engineered living bacterial cells that contain PHB-degrading bacteria. Living materials that are 3D-printed degrade their surrounding bioplastic structures at tunable and programmable rates.
What was it that originally sparked your interest in biology?
I volunteered as a docent at a public museum. I knew by heart the history and context of the specimens in the collection. As I introduced polar bears to museum visitors and talked about their habits and habitats, I felt as if I were conversing with old friends. My interest in biology was piqued by my fascination with wild plants and animals.
What do you enjoy most about working here at the U of R?
I was fortunate to have worked with lab members who assisted me in developing good research habits. Dr. Meyer was very kind and encouraging, and she gave me inspired advice in proposing and attempting alternative strategies to achieve the experimental goals. As I learned how to conduct an independent project in the Meyer Lab, I developed hypotheses and devised various testing methods.
What's the most important thing that you've learned working here and/or studying biology?
Finding and committing to the research that most interests you is a wonderful experience! Additionally, interacting with peers is frequently unexpectedly rewarding.
How do you think our biology department stands out in comparison to other universities?
There are lots of opportunities for research support and presentation here. You will have many opportunities for mentorship and peer interaction.
How do you unwind when you're not in the lab?
I enjoy hiking, swimming, traveling.