Kyle van Tienhoven
Lab Technician, The Fu Lab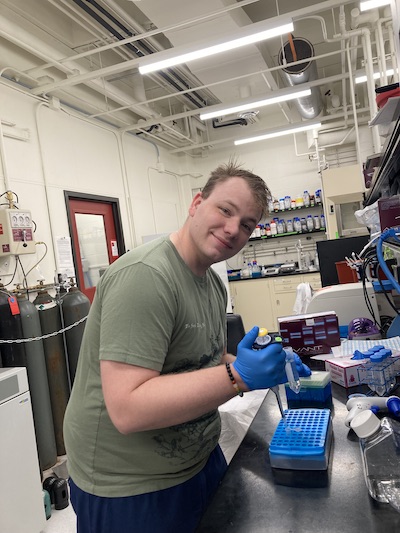 You work in a laboratory.  What are you currently researching?
In the Fu lab we have multiple projects running at one time. I have a hand in many of the projects, but my focus is on the role of DALRD3 and its integral function in neurodevelopment. This branches off a project done by Jenna Lentini, which was published in Nature. Needless to say, I am very excited about carrying on this work in the in vivo system!
What do you enjoy most about working here at the U of R?  
The U of R has amazing research opportunities but what I love the most about working here is the friendships inside and outside of the lab that I have made in my first year. Now that we are returning to in-person events, I look forward to attending more departmental functions so I can meet more people in the department.
What advice would you give to prospective students looking to study in our department?
I'd say keep an open mind on your rotations - you never know what lab you will click with. Each lab is a completely different environment and you will be there for years, so choose one that you feel most comfortable in or are inspired by. I think these are some of the most important factors in choosing a lab. Finding the work/community balance is so important!
What's the most important thing that you've learned working here and/or studying biology?
When I started, I came from a very heavy retail background and had been out of science for a while.  I realized that I needed to return to science. I applied and started working here one year ago. When I started, I was very nervous and unsure of myself because I felt like I had forgotten most of what I had learned. The most important thing I realized was that I need to have the self-confidence to know I can relearn and learn things for the first time. I am much more comfortable now and am helping the new graduate students with some of their questions.   
How do you unwind when you're not in the lab?
I am an avid Funko Pop collector, with my collection reaching over 250 Pops. I even had special custom shelves made for them. I love walking through different stores and trying to find the pieces I want before ordering online. I love the hunt for the ones I love and before you ask, I do not have a favorite!