Caroline Benec
Project Assistant, The Minckley Lab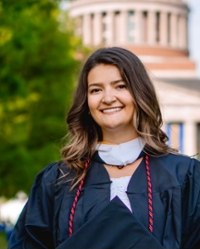 You work in a laboratory.  What are you currently researching?
I work as a project assistant for The Ward Project in The Minckley Lab. The Project seeks to digitalize and compile a database of natural specimens, taxidermy and correspondence circa 1862. One hundred and fifty years since Rochester professor of biology Henry Ward collected, staged and sold individual and collections of specimens in cabinets to universities and museums, we are tracing how the scientific names have changed, where the specimens and cabinets have gone, and more broadly, the role of Ward's Natural Science Establishment in the promulgation of the study of natural history. We are virtually rebuilding the University of Rochester's contribution to the growth of natural history museums.
What do you enjoy most about working here at the U of R?
I enjoy the collaborative and interdisciplinary nature of our project. I work side by side with Bob Minckley and Melissa Mead, University Archivist in Rare Books and Special Collections, to attempt to more fully capture and understand how the study of natural history was augmented with Ward's models of animals, minerals, meteors and more.  It's also special to think that Henry Ward's collections started here in Rochester but gained the attention and appreciation of people all over the world both in and out of academia. 
What advice would you give to prospective students looking to study in our department?
Look for the connections between biology and other fields that excite you! This can be done by taking a few classes in other disciplines through the open curriculum. As an undergraduate, BIOL 104K spurred my interest in connecting ecosystems conservation with human society.  As a project assistant now, I am seeing the connection between Henry Ward's cabinets, the more widespread study of natural history starting at the turn of twentieth century, and how this appreciation, in broad strokes, has aided in the preservation and protection of rare and endangered species. 
What's the most important thing that you've learned working here and/or studying biology?
To let the evidence guide you! Sometimes I will have a specific question in mind, and a day later, after having sifted through the longhand scrawls of century-plus old letters, I come to find myself on a completely different path. For instance, a few weeks ago, I came across a photograph taken in 1880-90 of a blue whale/Balaenoptera sibbaldi or musculus mounted in the Western Australian Museum of Science in Perth. The skeleton was so large that it was housed in its own warehouse (See here: https://wardproject.org/collections/show/14 )
Would a whale take Ward across the world to Western Australia? No letters corroborated the idea that Ward was responsible for staging this whale, but a letter did indicate that Ward had advised a previous project to mount a smaller orca skeleton at Harvard's Museum of Natural History in 1883. We suspect that Ward advised taxidermists on the Western Australian display, as he had done on the orca project. 
You can follow the Ward Project's Twitter @wardproject_ur (Twitter.com/wardproject_ur) to hear more stories from our collection like this one.
How do you unwind when you're not in the lab?
I enjoy walking in Highland park and listening to podcasts or going to Rochester's Public Market.