Josie Emmanuele
Master's Student (graduated May 2021), The Lambert Lab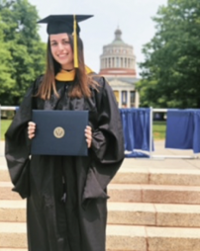 You worked in a laboratory.  What were you researching?
I am mainly interested in the cellular portion of biology and began studying developmental biology with the Lambert Lab in Spring 2020. The overall goal of the research I was conducting was to clone the open reading frames (ORFs) for Cyp26 and RDH10 from the mollusc Ilyanassa and construct plasmid vectors for expression of these genes in mRNA. This study, like many studies in developmental biology, was to observe whether genes could be rescued by expressing mRNAs while in the presence of morpholino knockdowns. Loss of function, knockdown, and rescue experiments with the use of morpholino oligonucleotides, overall, are popular in studying the developmental process and molecular backbone in many different organisms.
What was it that originally sparked your interest in biology?
As a young student, I was always interested in how the human body worked and functioned. As I grew in my studies, I found it interesting how it all starts from microscopic cells that collaborate together to build what we humans are today! In high school, I never expected to become involved with research for I was also interested in medicine, but as my time in school progressed, I gained a greater appreciation for the cellular side of biology and wanted to explore the topic even more! I attended St. Lawrence University for my undergraduate years where I majored in biology and worked as a biology TA, helping students begin and conduct their own research in lab. It wasn't until I attended University of Rochester as a graduate student that I began conducting my own research and working in the Lambert Lab. Research at University of Rochester has helped me gain a more comprehensive understanding for the broad field of biology; this is something I plan to utilize and continue to pursue as I further my education as a Physician Assistant in the field of medicine.
What advice would you give to prospective students looking to study in our department?
My first piece of advice is do not get discouraged! You will have good days, but you will also have bad days. In research, not everything goes as planned. If you are like me, you will try to stick to a specific timeline or schedule, but with research you must try to stay flexible. Not everything happens automatically or produces the results you are hoping for, so remember to take a step back, relax, and try again; if you need to, walk away and come back to it with a fresh mind. My second piece of advice is to ask questions! All of the faculty, staff, and students are very helpful and want to see you succeed. Being my first official year conducting research, I was fairly new and was constantly asking questions. Graduates, undergraduates, and faculty were always willing to lend a hand, share their knowledge, and walk through everything step by step no matter how many times I asked. In my first semester, I was terrified and didn't know where to start, but because of all the help I received from everyone, by the end of that first semester I was confident with the research I was completing and even helped others as well! The environment that students and faculty at University of Rochester have instilled is definitely collaborative and unified. My last piece of advice is to take breaks and explore Rochester! I'm from a small town in central New York, so moving to Rochester was a big change. From hiking trails to unique restaurants in the city, Rochester definitely has something for everyone: so go explore!
What's the most important thing that you've learned working here and/or studying biology?
Biology can be a difficult or tricky field and not everything is always clear cut. Things are constantly changing and new discoveries are always being made. One thing I gathered is that, although you may be working alone at times, it's definitely a collaborative field. As a group, our lab would combine with another lab and conduct regular lab meetings. These meetings were always beneficial. All of the students and faculty would come together as a group and discuss different ideas to help each student find the best way around an obstacle if they felt they were stuck in their research. These meetings helped in considering alternative explanations for presented results and/or suggesting next steps in a student's research. There were times in lab that I would feel stuck or did not have an answer on what to do next, and I would ask the other students and professors for their opinion. Being able to openly discuss results, findings, and problems for a project I was working on always helped to sort out thoughts and was very important in the lab setting. University of Rochester helped me feel comfortable approaching others with questions and issues I had which resulted in becoming a more confident student. Collaboration, teamwork, and communication are vital to the field of biology and research.
How do you unwind when you're not in the lab?
When I wasn't in lab or in class, I was most likely working. I worked at University of Rochester's Barnes and Noble, both in the café and as a bookseller throughout my time as a graduate student, so I was lucky enough to make friends and meet a variety of people from both the community and the school. When I wasn't working or studying, I loved to explore and adventure (mainly outdoors)! Mendon Ponds Park was one of my favorite places to relax. There are a variety of trails to walk, run, and bike; it is also a beautiful place to visit in Fall! Rochester also offers many fantastic restaurants; so if you like food, Rochester is a great place to go! I discovered great ice cream places, coffee shops, cafes, and markets. I definitely cannot wait to return!