Eric Cefaloni
Graduate Student, The Vertino Lab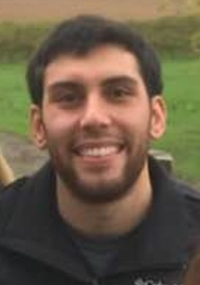 You work in a laboratory.  What are you currently researching?
I work on breast cancer epigenetics under Dr. Paula Vertino at the Wilmot Cancer Center. I study how epigenetic mechanisms in breast cancer may contribute to the epithelial to mesenchymal transition of cells. Currently, I am exploring how the lysine methyltransferase SUV420H2 functions to epigenetically regulate the transcription rate-limiting step of promoter proximal pausing.
What was it that originally sparked your interest in biology?
I have always had a keen interest in the natural world. As a kid, I was constantly turning over rocks in my backyard and exploring the woods near my house in search for any interesting bugs, fungi, or plants. When I first learned about evolution in school, I was captivated. Ever since then, I have wanted to learn more about the natural forces that shape our world and ourselves.
What do you enjoy most about working here at the U of R?
The work environment. The people here are so friendly and helpful; I know I can always count on my colleagues for support and motivation. It is also very common for labs here to cooperate and to share equipment and expertise. I love the wonderful and collaborative work culture here at the U of R.
What's the most important thing that you've learned working here and/or studying biology?
Persistence is key! Prior to becoming a graduate student, I never realized how often researchers' experiments failed until I experienced that failure firsthand in the lab. I learned that although you are met with constant struggles as a scientist, it is important to never give up. With enough determination, you will eventually find success.
How do you unwind when you're not in the lab?
I love to hang out and grab a drink with friends. When I'm alone, I like to exercise and play video games. My favorites are action games and strategy games. I'm also a big fan of cheesy 80's movies.