Tiffany Dias
Laboratory Technician, The Fay Lab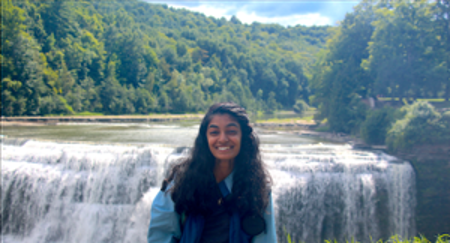 You work in a laboratory.  What are you currently researching?
I'm currently using yeast to study how selective history can impact an organism's ability to adapt to stress and changing environments. By using experimental evolution techniques, we can examine how the frequency and intensity of exposure to stress in a strain's evolutionary history impact its performance in different environments, and explore whether an adaptation to one environment is costly under different conditions. We can also investigate the underlying genetic basis of these adaptations by sequencing and analyzing the strains' genomes.
What was it that originally sparked your interest in biology?
It probably started with all the wildlife books I read as a kid. I spent a lot of time outdoors and enjoyed using the colorful field guides I had to identify the different animals and plants I saw. I also had great experiences with science - particularly with biology - in high school, which eventually led me here.
What do you enjoy most about working here at the U of R?
I really appreciate getting to work with people who are not only knowledgeable and enthusiastic about science, but who are also kind and supportive. Working in a collaborative and positive environment definitely makes doing research more enjoyable. 
How do you think our biology department stands out in comparison to other universities?
The department makes a tremendous effort to promote the intellectual development of students and researchers, cultivate a sense of community, and find ways to better support faculty, staff, and students. Several department members are also highly committed to outreach and community engagement to make science more inclusive and accessible beyond the university.
How do you unwind when you're not in the lab?
I enjoy hiking, climbing, reading, and playing board games with friends.