Moriana Garcia
Outreach Librarian for Biology, Biomedical Engineering and Brain & Cognitive Sciences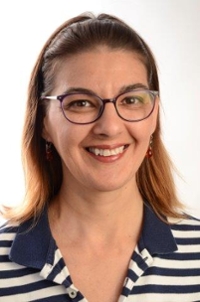 What is your current role in the Department of Biology? 
I am the librarian for biology and have been in this position since I arrived at the University of Rochester in November of 2015. I support the information needs of the department, teach students strategies and tools to search more efficiently, and maintain the River Campus Library collection in biology and related sciences. I also support biomedical engineering and brain & cognitive sciences, so I like to say I am the "BBB librarian". 
What do you enjoy most about working here at the U of R? 
I am always learning something new. Faculty members and students regularly come up with new challenging questions that force me to search using previously unknown databases, or learn a new software, or study the basics of a new topic so I can truly help them find whatever they need. I especially enjoy when people ask me to find obscure sources or acquire unique materials - the more difficult the search, the more rewarding the result. Pure dopamine rush! 
How would you describe our department and the people you work with? 
Extraordinary. The biology department is full of smart and creative people who are passionate about science and truly committed to making students' lives ever better. They are constantly creating new knowledge, which increases our understanding of the world and our capability to solve problems.    
How do you unwind when you're not in the office? 
In the summer I do a lot of gardening - I love to eat my own vegetables and that is going very well. On the other hand, I have planted several fruit trees in my backyard and my only reward until now has been an apple, a very small apple.  But I still have hope. In the winter, I like to curl up with my cat and read a lot of science fiction, my favorite genre. I particularly love elaborate descriptions of alien ecosystems, and always catch myself trying to match the descriptions to real organisms on Earth. 
What is one thing about yourself that you'd like more people to know?
I lived five years in the Amazon, and although I do not miss the weather - too hot for my taste – sometimes I miss the food. For example, grilled tambaqui (Colossoma macropomum) ribs - best fish ever! The Amazon also has some fruits that do not grow anywhere else.  My favorite is cupuaçu (Theobroma grandiflorum).  My mouth salivates just remembering the flavor.  The diversity of plants and animals in the Amazon is truly fascinating.