Stephanie Hao
Laboratory Technician, The Larracuente Lab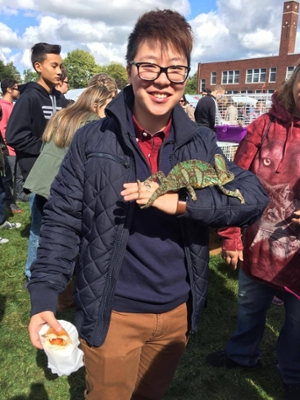 You work in a laboratory.  What are you currently researching?
I work in the Larracuente lab.  We study selfish DNA, repetitive DNA, and genomic conflicts. Specifically, I work on Responder, a repetitive element in the context of a D.melanogaster drive system.
What was it that originally sparked your interest in biology?
It might sound a bit cliché, but ever since my first science class in 7th grade, I've always enjoyed learning about biology.  I joined a science club in 7th grade where we did little experiments such as covering leaves with aluminum foil (blocking photosynthesis) and sexing millipedes. Ever since then, I've always known I wanted to study biology. I received my undergraduate degree in cell & developmental biology from the U of R and am currently working on satellite DNA genetics.
What advice would you give to prospective students looking to study in our department?
The biology student body here at the U of R is extremely collaborative and friendly. If you are uncertain about whether you will fit in - you will.  The biology curriculum here will challenge you, but it will prepare you well for your future after undergrad. The professors are approachable, and many become great mentors for students. I was a workshop leader for 3 years during my undergraduate career at the UR and I loved it. If you ever need help with concepts, your classmates, TAs, and professors will always be more than willing to help you. If you really want to participate in research as an undergraduate student, the UR will be a great fit for you. It is uncommon for seniors not to have research experience (basic or clinical) by the end of their senior year.
How do you think our biology department stands out in comparison to other universities?
Having been a student here, I believe the biology department stands out in various ways. One way I believe the department shines is how the courses here emphasize building a solid foundation in scientific knowledge and reasoning. Relatedly, the department emphasizes critical thinking as opposed to brute memorization. The department affords students many opportunities for gaining research experience either on the River Campus and/or at the medical center. Through this, it's easy to see how much collaboration occurs between labs here at the U of R. I believe the strong emphasis on the fundamentals of scientific reasoning and biology prepares students well for graduate school. Even for those who choose not to continue with their higher education, the critical thinking skills acquired are applicable to any and all fields.
How do you unwind when you're not in the lab?
I enjoy catching up on movies and music in my free time, as well as the company of my friends and pets (a cat named Zoey and a rabbit named Roger). I also enjoy exploring different coffee shops in Rochester. My unsolicited recommendation is to check out Boxcar Café and Canaltown Coffee Roaster.