Tyler Wilson
Laboratory Technician, The Bergstralh Lab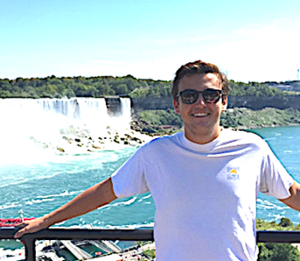 You work in a laboratory.  What are you currently researching? 
In the Bergstralh lab, we study epithelial tissue morphology during development in Drosophila. Specifically, I study a process known as cell reintegration and its possible implications on cancer development.  
What's the most important thing that you've learned working here and/or studying biology?
The most important thing that I've learned while working here in the department is the importance of collaboration. Every week we attend multiple meetings with labs from different departments. This allows us to get a wide range of perspectives and feedback about our work, which is very important for the advancement of science.

How do you think our biology department stands out in comparison to other universities?
The Department of Biology stands out in many ways, but a striking difference that I see is the diversity in research and model systems used in the department. It creates an interesting and exciting environment and gives students a chance to study a wide range of topics.
What do you enjoy most about working here at the U of R?
I enjoy the people and the environment most. The department is filled with caring and friendly individuals who are always willing to help and share ideas. The school offers many opportunities for continued learning and growth, and I am grateful I get to be a part of that.
How do you unwind when you're not in the lab?
When I'm not in the lab, you can probably find me hanging out with friends or enjoying the outdoors. In the winter I like to ski and in the summer I will try to find a beach wherever I happen to be.
Food is one of my true loves in life and I like finding new places to eat and trying different things.