Joshua Dewe
Postdoctoral Research Associate, The Fu Lab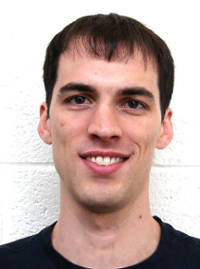 You work in a lab. What are you currently researching?
I am currently investigating the molecular mechanism underlying the link between tRNA modification and human intellectual disability.
What was it that originally sparked your interest in Biology? 
I have liked science ever since I can remember.  My interest in biology probably started with my love of nature.  I grew up in a rural area and I've always liked spending time outdoors and observing the life around me.
What do you enjoy most about working here at the U of R? 
Being an RNA biologist, I really appreciate the strong community of RNA researchers at U of R.  It's very helpful to attend talks and meetings focused on RNA in order to gain insight into my own project. 
What advice would you give to prospective students looking to study in our department?
Find a research topic that you find truly fascinating.  With the difficulties and setbacks that scientific research can present, your motivation to keep working hard will come from your interest in the project.  With the huge variety of research topics in the biology department, there is something here for almost anyone.
How do you unwind when you're not in the lab? 
In the summer months, I enjoy hiking, camping, and other outdoor activities.  I like bike riding and ride mine to the lab year-round.  Most of all, I enjoy spending time with my wife and one-year-old daughter.